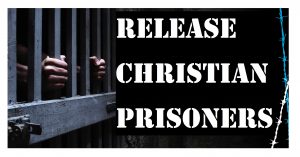 Hundreds of Christians are imprisoned in Eritrea in appalling conditions in prisons, police stations and shipping containers. Many church leaders have been incarcerated for over 13 years – without any contact with their families.
Visit our Prisoners Page to read some of their stories.
Church in Chains is asking you to show that you support them by sending a postcard to the Eritrean government. We have designed two postcards – one addressed to President Isaias Afewerki in Eritrea and the other addressed to Estifanos Habtemariam Ghebreyesus (the Eritrean Ambassador to the UK and Ireland, based in London).
By sending off a postcard, the call to "Release Christian Prisoners" will be conveyed to all who see it in Eritrea and the UK – including postal officials and civil servants.
Order extra postcards
Could you spread the word about the postcard campaign?
Ask your church leader to announce it one Sunday and have postcards available for people to use
Bring some postcards to your small group
Encourage your family and friends to send off postcards