"Continue to remember those in prison as if you were together with them in prison" (Hebrews 13 v 3)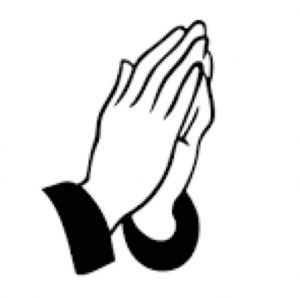 Praying for fellow-Christians facing persecution has been an important part of Christian discipleship since the days of the early church and the Bible verse quoted above has been the theme verse for Church in Chains since its foundation. The New Testament records that "Peter was kept in prison, but the church was earnestly praying to God for him" (Acts 12 v 5) and we should follow their example and pray for those facing persecution today .
We provide several resources to help you pray for the persecuted church. You could use prayer points in the quarterly Church in Chains magazine, sign up for weekly Global Update emails, follow us on Facebook or pray through the Church in Chains Global Guide.
Prayer Groups
Prayer groups for the persecuted church regularly meet in Dublin city centre, the Midlands region (rotating between Athlone, Ballinasloe, Banagher, Birr, Longford, Mullingar, Roscommon and Tullamore), Corwillis, Dundalk, Galway, Greystones, Westport and Wexford. Please contact the Church in Chains office if you would like more information.
Here are some pictures from some of the existing prayer groups:

Galway Prayer Group at the Church in Chains conference (left) and at their regular meeting (right)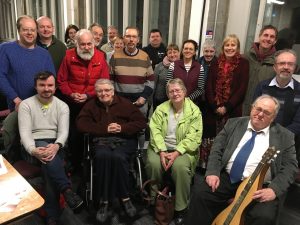 Dublin Prayer Group
Praying with others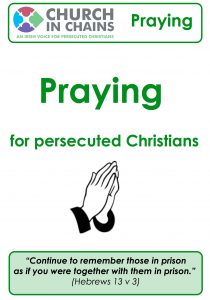 If there is no prayer group near where you live, you could start a new one!
It could be held monthly, using Global Update emails; or quarterly, praying through the Church in Chains magazine. Contact the Church in Chains office for advice about starting a group.
Click here to download our praying leaflet, which contains ideas for praying for persecuted Christians. The leaflet contains Bible verses and suggestions for praying on your own, with your church or in a home group. It also contains some ideas for leading a prayer group.