Church in Chains runs a number of annual projects designed to promote prayer and action on behalf of persecuted Christians around the world.
You can get involved by arranging for your church, fellowship or small group to participate in these projects and Church in Chains will supply all the resources you need.
Lent Prayer Project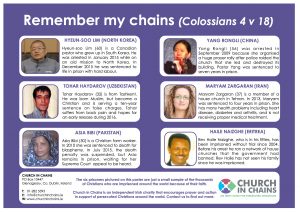 Every year, we organise a Lent Project to focus prayer on six long-term Christian prisoners. Supporters pray for one prisoner per week.
Each week, we publish a Prayer Profile which includes details of the prisoner's arrest and sentence, their family and church, latest news and prayer points. The Prayer Profile is available on this website, via our weekly email and on Facebook.
Prayer Profiles are also featured in the Spring issue of Church in Chains magazine and an A3 poster (pictured) showing the six prisoners is available for display.
View the 2016 Prayer Profile for Hyeun-soo Lim (North Korea)
International Day of Prayer for the Persecuted Church

Every November, a Sunday is designated as the International Day of Prayer for the Persecuted Church. On this day, churches all over the world spend time during their worship services to pray for persecuted Christians.
Church in Chains prepares resources including posters, bookmarks for every person in church (containing prayer points), an information sheet (for the person leading prayers) and a short PowerPoint presentation.
In 2016, the focus in Ireland was on Pakistan. Around 40 churches in counties Armagh, Carlow, Cavan, Cork, Dublin, Galway, Kildare, Kilkenny, Limerick, Louth, Mayo, Roscommon, Tipperary, Westmeath, Wexford and Wicklow participated.
View the Prayer Information Sheet
View the PowerPoint presentation
Christmas Cards to Prisoners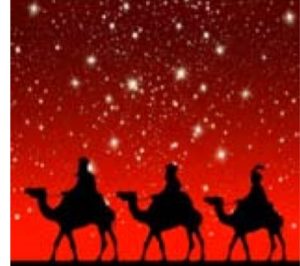 At Christmas, we encourage supporters to send Christmas cards to Christian prisoners serving long sentences because of their faith.
The annual list (which is also included in Church in Chains magazine) includes card writing guidelines, addresses and postal details.