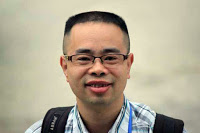 The wife of Chinese pastor Yang Hua has visited him in prison and reported that his health is "a little better".
After the visit, Wang Hongwu posted the following report on social media: "Today, I and my younger son went to the Baiyun Prison of Guiyang to visit Yang Hua. We were forced to hang up [phone link through screen in visiting room] only after ten minutes of conversation. One of Yang Hua's inmates put him on the back and carried him to the meeting room.
"Although he still couldn't walk, I could tell that the infections on his legs were controlled, the festers were also beginning to heal. His mental condition was good. Yang Hua cried when he saw his younger son, but we didn't cry. We were so happy, full of gratefulness and peace. Yang Hua is a new prisoner, which means that only immediate family members are allowed to visit him, and only once a month.
"The government is paying a lot of attention to Yang Hua. We were surrounded by police officers when we were chatting. We were told that Yang Hua would stay in Baiyun Prison for two and a half months, and then be transferred to another prison."
Wang Hongwu remains concerned for her husband's health and particularly about the prospect of him being transferred to another prison, when his health is so poor.
In late March, it was reported that Yang Hua had become critically ill in prison with inflammation of the blood vessels. His legs were swollen and badly ulcerated, and it was feared that he would need a double amputation.
Pastor Yang (41) has been in detention since December 2015, when he tried to stop police from confiscating a hard drive during a raid on Huoshi "Living Stone" Church, Guizhou province. He was charged with divulging state secrets, and in January 2017 was sentenced to two years and six months in prison.
(China Aid)
Share this