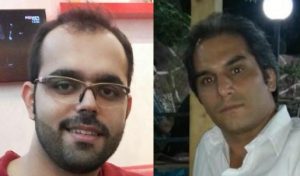 Two Christian converts who have been in prison since August 2016 have ended their hunger strike after being promised medical care and progress in their case.
On 5 February, Amin Afshar Naderi (on left of image) and Hadi Askari (on right) went on hunger strike to demand medical care and to protest about delays in their case.
On 12 February, Naderi became very ill when his blood pressure dropped. He was refused medical attention. Askari had been suffering from a kidney infection, for which he had been refused treatment. Despite being in prison for almost six months, they have yet to be charged with any crime.
On 14 February, the Head of the Attorney General's office Ali Akbar Bakhtiari and his deputy visited Naderi and Askari in Evin Prison in Tehran. They promised to investigate their case and that of others imprisoned for their religious beliefs, so Naderi and Askari ended their hunger strike.
Background
Naderi and Askari are the two remaining detainees from a group of five Christians detained on 26 August 2016 during a fishing trip to the Alborz Mountains in Firuzkuh county, 150 km northeast of Tehran. They were holding a picnic with their wives and friends when they were detained in a raid by security authorities from the Ministry of Intelligence and Security, and brought to Evin prison.
Three of the detainees were released on bail late last year: Ramiel Bet Tamraz and Mohamad Dehnay were released in October after posting bail equivalent to approximately €30,000 each, and Amir Dashti was released on bail in December. Middle East Concern reported that Naderi and Askari were unable to raise the amount of bail demanded for their release. They were recently summoned to defend their case and as a result it was agreed that bail would be reduced.
No charges have been brought against any of the five men arrested on the fishing trip. During interrogations, each was questioned about his Christian activities but also about Ramiel Bet Tamraz's father, Pastor Victor Bet Tamraz. Pastor Victor led the Tehran Assyrian Pentecostal Church until it was shut down by the Ministry of Interior in March 2009.
In a report published in September 2016, individuals close to the five Christians told Mohabat News, "The greatest concern of the families of these Christian men is that the authorities may fabricate charges against them, as they found three Bibles in their gathering. They are also concerned that authorities would put their loved ones under pressure, forcing them to confess to crimes they have not committed."
Previous arrest
Amin Afshar Naderi was arrested previously at a house church Christmas gathering on 26 December 2014, together with Pastor Victor, his son Ramiel and twelve other Christians. Most of the detainees were released that night, but Amin and Pastor Victor were charged with conducting illegal evangelism and held in Evin Prison, mainly in solitary confinement. Amin was detained for forty days and was released on bail in February 2015; Pastor Victor was released on bail on 1 March 2015 – he is still awaiting trial.
(Middle East Concern, Mohabat News, World Watch Monitor)
Share this