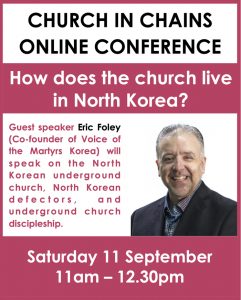 This year our annual conference is going to be held online (as a Zoom webinar) on Saturday 11 September from 11am- 12.30pm.
Guest speaker Eric Foley (co-founder of Voice of the Martyrs Korea) will share his insights about how the church lives in North Korea which is often described as the hardest place in the world to live as a Christian. He will speak about the underground church inside North Korea, the experiences of North Korean Christians who defect and also about how discipleship works in the underground church.
The conference will include an opportunity for delegates to put questions about North Korea to Eric and he will reply in a live Q & A session. The event will also include updates from around the world and the work of Church in Chains. We are hoping that supporters will gather on the day in small groups to have watch parties and join in prayer. More details later.
You can register here to attend the conference webinar on Zoom.
Church in Chains will use the details given to keep you informed about our work. By providing us with your church details, you agree to us holding and using information about religious affiliations. We will never sell or share your data with third parties. You can view our Privacy Policy here.