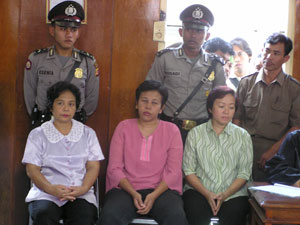 Earlier this month, Indonesian judges sentenced three women (pictured left) to three years in prison for allowing Muslim children to attend a Christian Sunday school programme.
Rebekka Zakaria, Eti Pangesti and Ratna Bangun received the sentence after judges found them guilty of violating the Child Protection Act of 2002, which forbids 'Äúdeception, lies or enticement'Äù causing a child to convert to another religion. The maximum sentence for violation of the Act is five years in prison and a fine of 100 million rupiah ('€8,000 approx.).
The Sunday school teachers had instructed the children to get permission from their parents before attending the programme, and those who did not have permission were asked to go home, according to Jeff Hammond of Bless Indonesia Today, a Christian foundation operating out of Jakarta. None of the children had converted to Christianity.
When the verdict was announced, the courtroom crowd erupted with shouts of "Allahu akbar" ("God is great").
A source who spoke with Zakaria by phone as the three women were waiting to be taken into the courtroom for the verdict said she was calm and confident. Zakaria said the situation did not look hopeful but that some day, "in God's time," all three women would "walk free from the prison."
The three women, described by friends as "ordinary housewives," were relieved that they had not been given the maximum five-year prison sentence. All three, however, were devastated at the prospect of being separated from their children, who range from 6 to 19 years of age.
As they have done throughout the trial, Islamic extremists made murderous threats both inside and outside the courtroom. Hammond said several truckloads of extremists arrived; one brought a coffin to bury the accused if they were found innocent.
"The ladies, witnesses and judges were constantly under the threats of violence from hundreds of Islamic radicals who threatened to kill the three ladies, witnesses, pastors, missionaries and even the judges if the women were acquitted" (Compass)