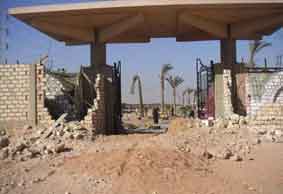 The Egyptian Ambassador, Mr. Ibrahim Khairat, told CCFC today of his shock at the contents of a dossier (delivered to the Embassy today) detailing (in text and photographs) the latest attack on the Patmos Centre last Monday.

He expressed particular sadness about the death of Kirilos Daoud, a staff member at the centre, during the attack.

Mr. Khairat emphasised that it was the duty of the Egyptian government to protect all Egyptians, regardless of religion.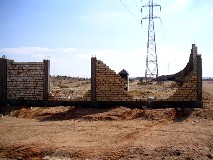 The Patmos Christian Centre has been attacked for the ninth time. In the fracas one of the employees was killed.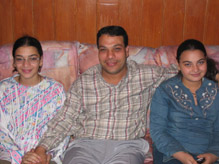 All 22 people arrested in October in connection with allegations of forging identity papers for Christian converts from Islam have now been released on bail – apart from one Muslim government official (with diabetes) who died in prison after suffering a beating.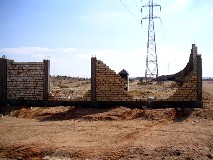 The Egyptian Army has once again carried out a totally unprovoked attack on the Patmos Christian Centre 30km to the east of Cairo.
Just after midnight in the early hours of Tuesday 18 November an army dump truck was driven repeatedly into the perimeter wall surrounding the Patmos Christian Centre.
Considerable damage was caused, including the destruction of one of the reinforced concrete pillars.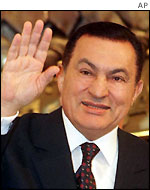 Tuesday 19 August saw remarkable events at St. Anthony's Monastery near the Red Sea. In the morning, the monastery, which dates back to the fourth century, was surrounded by 300 police officers equipped with fourteen bulldozers.

They were preparing to demolish a perimeter wall, legally erected in 1998 to protect the monastery from attacks by Muslim extremists. After an urgent appeal made international news, President Mubarak intervened and the police withdrew from the monastery later in the day, leaving it undamaged.

Pledges investigation into cases raised
Today in Dublin, the Egyptian Ambassador, Mr. Ashraf Rashed, met with Mark Rohu and David Turner (CCFC) to listen to concerns about a number of difficulties currently being experienced by Christians in Egypt. The hour-long meeting took place in a friendly atmosphere and CCFC began by welcoming the positive contribution of the Egyptian government on a number of issues of importance to Christians.