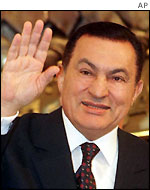 Tuesday 19 August saw remarkable events at St. Anthony's Monastery near the Red Sea. In the morning, the monastery, which dates back to the fourth century, was surrounded by 300 police officers equipped with fourteen bulldozers.

They were preparing to demolish a perimeter wall, legally erected in 1998 to protect the monastery from attacks by Muslim extremists. After an urgent appeal made international news, President Mubarak intervened and the police withdrew from the monastery later in the day, leaving it undamaged.

Pledges investigation into cases raised
Today in Dublin, the Egyptian Ambassador, Mr. Ashraf Rashed, met with Mark Rohu and David Turner (CCFC) to listen to concerns about a number of difficulties currently being experienced by Christians in Egypt. The hour-long meeting took place in a friendly atmosphere and CCFC began by welcoming the positive contribution of the Egyptian government on a number of issues of importance to Christians.