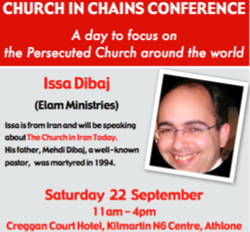 Christians from various parts of Ireland will be making their way to Athlone for the annual Church in Chains Conference to be held there on Saturday 22nd September (11am – 4pm).

The keynote speaker at the conference will be Issa Dibaj who will be speaking about The Church in Iran Today. Issa is no stranger to persecution as his father, Mehdi Dibaj, was martyred in Iran in 1994 while his sister, Fereshteh, was detained for over a week by Iranian police last year. Issa works with Elam Ministries, which seeks to strengthen and expand the church in the Iran region.

The conference will also hear from a recent visitor to India where the number of violent attacks against Christians has been increasing in recent years. This speaker will tell of their own experience in living and working in India in a tense and hostile environment.

Updates about the current situation of Christians in China, Eritrea and Mexico will also be presented to delegates and there will be opportunities to join with others in praying for persecuted Christians in these countries.

All are welcome to attend the conference which is being held at Creggan Court Hotel, Kilmartin N6 Centre (off roundabout on the N6 on the Dublin side of Athlone town) where ample parking is available. Admission Free – for more information, click the Contact Us on the sidebar at left.
Share this