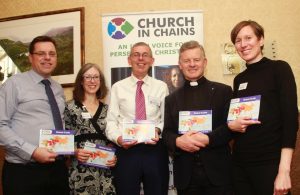 The Church in Chains Global Guide was publicly launched today at an event at the Royal Marine Hotel in Dun Laoghaire by Rev Trevor Sargent (recently ordained Church of Ireland minister and former Green Party leader).
Addressing a gathering of journalists, church leaders, supporters and a representative from the Department of Foreign Affairs, Rev Trevor warmly commended the work of Church in Chains and in particular the new third edition of the Global Guide, which he said provided an essential toolbox to begin addressing the often harrowing situation of persecuted Christians.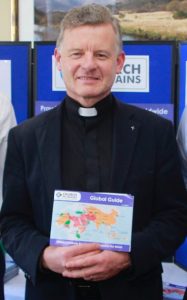 Rev Trevor referred twice to the New Testament letter of James which in chapter 1 exhorts Christians to "not merely listen to the word… do what it says" and which in chapter 5 notes that "the prayer of a righteous person is powerful and effective". He used these verses to frame his remarks, saying that he hoped that the Global Guide would be used by many Christians in Ireland to pray for their persecuted brothers and sisters in sixty countries worldwide but also that Christians would act in writing to the governments of countries where persecution is taking place. He expressed the hope that the Global Guide would be used in schools, pulpits and by politicians.
Turning to the realities of politics and government, Rev Trevor said that while the Department of Foreign Affairs might state that it prioritises the promotion of human rights (including religious freedom), its overriding priority is Ireland's national interest which, he said, can mean that human rights can be overlooked if seen to be conflicting with the national interest. He also noted that in many of the countries featured in the Guide (especially in the Middle East/North Africa region), there is a scarcity of natural resources, which can be an exacerbating factor in the persecution of religious minorities. He said that with the advance of climate change, this situation would not get any easier. Rev Trevor closed his remarks by quoting the 18th century Irish politician Edmund Burke, who said, "The only thing necessary for the triumph of evil is for good men to do nothing."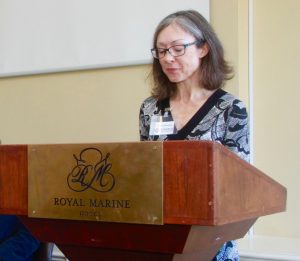 Earlier, Virginia Chipperfield (Researcher and Writer for Church in Chains) described the methodology behind the publication. She began by noting that it was a team effort, researched and written by David Turner (Director), Susanne Chipperfield (Operations Co-Ordinator) and herself, with support from many other organisations and individuals. She listed some of the many international reports from governments and NGOs that were used as source material and the important role played by independent country experts who were consulted. She also outlined how the maps were commissioned and referred to the fact that the Guide was financed by a generous grant designated for the purpose.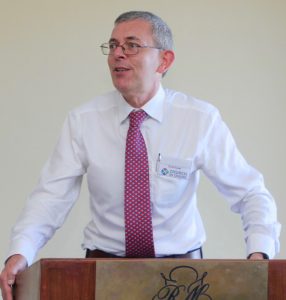 In his remarks, David Turner said "The persecution of Christians rarely makes the headlines but is a weekly if not daily lived experience for millions of Christians worldwide – we estimate that over 200 million Christians are at constant risk of persecution. The Global Guide is being launched at a time when the situation is noticeably worsening in the two most populous nations on earth, as Hindu extremists across India attack churches in rural areas every week with impunity, while in China the authorities close churches every week as President Xi's religious clampdown gathers momentum."
To obtain a printed copy,  email  info@churchinchains.ie with your name and postal address to receive a free copy (IRELAND & UK only).
Share this