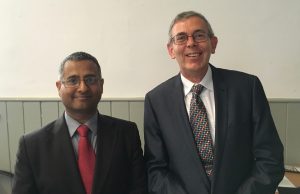 Dr Ahmad Shaheed, the United Nations Special Rapporteur on Freedom of Religion or Belief (pictured with David Turner, Director, Church in Chains),  visited Dublin on 25 June to speak at the Human Rights and Religions Summer School at Trinity College.
Speaking on the question: "Can human rights and religion work together?", Dr Shaheed began by asking two further questions: "Does religion need human rights?" and "Do human rights need religion?"
He then gave an overview of the global picture for religious freedom, quoting recently–published data from the Pew Research Centre showing that 43 countries have an official state religion, 40 give one religion a preferred status, 106 have no official or preferred religion while 10 states are hostile to religion.
Dr Shaheed drew attention to the fact that 80% of the world's population live in countries where religion is restricted (including the two most populous countries, China and India) and that 95% of countries in the Middle East and North Africa (MENA) region restrict religious freedom. He pointed to the negative impact of apostasy laws and blasphemy laws and said that 70 countries (including Ireland) have blasphemy laws.
Dr Shaheed said that religions need human rights for their own protection, to ensure equality and non-discrimination, and to provide freedom from persecution. He pointed out that Freedom of Religion or Belief (FoRB) also includes other human rights such as freedom of expression and freedom of assembly.
Dealing with the question of whether human rights needs religion, he said that this is a much more contested question but said that religion can mobilise for human dignity, can provide a strong emotional foundation for human rights and has been historically involved in human rights – referencing Dr Martin Luther King.
In dealing with the overall question of how robust FoRB is, Dr Shaheed highlighted the fact that while FoRB is found in the well-respected Universal Declaration of Human Rights, there is no international treaty that guarantees it. He also drew attention to the fact that more recent international statements of human rights have been progressively weaker in defending the right to convert. Dr Shaheed said that "public order" is regularly used by states as an excuse to deny FoRB.
In a separate public lecture at the Summer School, Dr Shaheed spoke on the challenges facing FoRB – he pointed to rising tides of intolerance; an increase in government imposed restrictions; a growth in social hostilities; and the rise of public religions in many countries (giving the examples of Islamisation in several countries as well as Hindu nationalism in India and Buddhist nationalism in some Asian countries). However, he also pointed to some encouraging signs in recent years, including the adoption by the EU of Guidelines on FoRB, the formation of a group within the European Parliament focusing on FoRB and the work of individual country envoys from Norway, Denmark and Germany on FoRB.
During the past year, Dr Shaheed has paid two country visits (to Uzbekistan and Tunisia) to examine the situation of FoRB in those countries and plans to visit Sri Lanka in the near future.
Share this