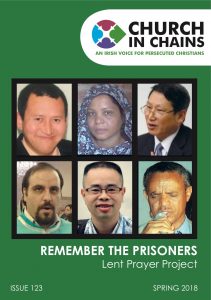 Our local reps do a valuable job in keeping their groups/churches updated with the latest news and prayer points. Depending on what time you have available, you could do any (or all) of the following:
Begin by distributing Information Leaflets and Global Guides to anyone who wants to learn more.
Distribute the quarterly Church in Chains magazine and interest others in supporting the persecuted church.
Ask if you can use a notice board (or part of one) in your church building and keep it up-to-date with Church in Chains news items and posters.
Encourage your group/church leader to promote the Lent Prayer Project.
Encourage your church leader to mark the International Day of Prayer for the Persecuted Church (in November).
If you have more time you could…
Run a prayer group
Organise fundraising events
Encourage your group/church to take part in postcard and letter writing campaigns
Give a short talk to the group/church
Contact the Church in Chains office if you are interested in becoming a local rep.