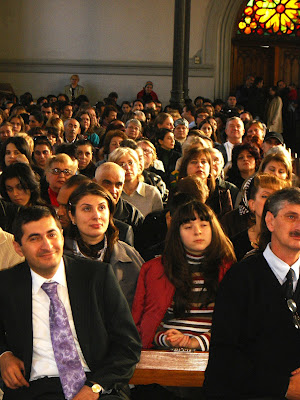 On Tuesday 17 July, the appeal by Greater Grace Church in Baku against a court order liquidating the church is to be heard at the court of appeals in Baku.
Greater Grace Church has served its community for 20 years, having a legal registration as a church since 1993 from the Ministry of Justice. However, on 25 April 2012, Judge Tahira Asadova of Administrative Economic Court No. 1 in Baku ruled to liquidate the Church at a 15-minute hearing on 25 April in the absence of any Church representatives.
The Court's decision was based on the allegation that the Church failed to re-register its license, despite the fact that all necessary papers were submitted by the church in good time. The decision of the Court means that any activity the church engages in would be illegal and subject to severe punishment. This forced liquidation of a religious group in the country came as a result of the harsh new Religion Law that was passed in 2009. The written decision of the court was received on 16 May, just before Baku hosted the Eurovision Song Contest. Monitors from the Baku Office of the Organisation for Security and Co-operation in Europe (OSCE) have attended successive hearings in the case.
Friends of the church are appealing for prayer for divine intervention; for the legal status of the church to be affirmed; and for the church to be granted the freedom to practise its faith without any pressure or harassment from the authorities.
Six Baptists threatened with prosecution
In northern Azerbaijan bordering Russia, police have threatened six Baptists with criminal prosecution for sharing their faith with others, and handing out religious literature.
Three Baptists were detained by police on the morning of 23 June and held until 1am the following morning, after they offered Christian literature to passers-by. The three Baptists – Timofei Aparshev, Nadezhda Ryzhkova and Stepanida Sheludyakova – are all members of the Council of Churches Baptist congregation in the port of Sumgait. "They handed out at most five or six items of literature", church members reported. After a conversation with a group of people and distribution of literature, a young man came up to them and asked them to give what they were handing out. He then immediately approached the police. The three Baptists were taken to the police station for questioning and are now awaiting possible prosecutions. Their passports have been confiscated. Christian literature and a car confiscated from three of them have not been returned.
The detentions and the threats to launch criminal proceedings came a month after three other Baptists from the nearby town of Kusar in northern Azerbaijan were detained and threatened.'Ä®The three Baptists – Ilgar Mamedov, Akif Babaev and Telman Yarmetov, all ethnic Lezgins – were detained by police on 17 May for sharing their beliefs in the village of Mujuk. They were taken to the police station in Kusar. The police chief ordered that all their literature (120 items of 13 different publications) should be confiscated, as well as Yarmetov's car. The three were threatened with prosecution under Criminal Code Article 167-2, Part 1 ("Production, sale and distribution of religious literature, religious items and other informational materials of religious nature with the aim of import, sale and distribution without appropriate authorisation"). (Forum 18)
Share this