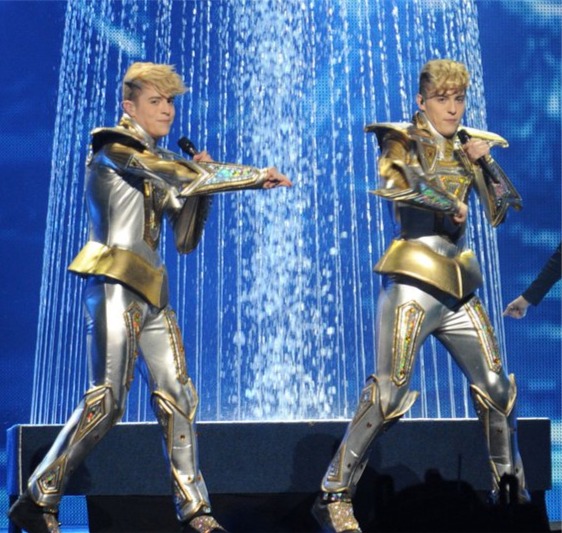 The eyes of Europe are on Azerbaijan this week as the Eurovision Song Contest is held in its capital city, Baku, on Saturday. Jedward (pictured) will represent Ireland.
Azerbaijan hopes that its international reputation will be boosted by the glamour of hosting the Eurovision but despite attempts to portray itself as a modern, progressive country, there are many human rights problems in Azerbaijan including serious restrictions on freedoms of religion or belief, expression, speech and association.
Last week, a court handed down a written verdict that Greater Grace Church in Baku is to be liquidated – the first known closure of a religious community under the controversial Law on Freedom of Religion passed in 2009. This law requires the compulsory re-registration of all religious communities in Azerbaijan.
Greater Grace, legally registered since 1983, contends that it had no formal notice of the need to re-register – and no warning of impending legal action against it. The church is studying the written verdict and plans to appeal.
Christians in this mainly Muslim, South Caucasian nation fear that the judge's decision could set a worrying precedent for other churches.
The Azeri authorities have long been suspicious of Christians, who make up less than three per cent of the population.
To date, officials have acted in secret to close down churches, raiding premises, banning worship, confiscating literature and imposing fines. Now, it is feared they could act openly, with the backing of the law.
The state's attitude was summarised by an official of the State Committee for Work with Religious Organisations, who took part in a raid on a Baptist congregation waiting to hear whether its registration application was successful. He stated: "Without registration you can't pray. We close any place of worship that isn't registered, including mosques."
Only two Protestant Churches – New Life and the Lutheran congregation, both in Baku – have successfully re-registered under the 2009 religion law. Dozens of other Protestant congregations – including Baptist, Seventh-day Adventist and Pentecostal congregations – as well as hundreds of mosques and several Jehovah's Witness communities have seen no progress in their applications, more than two years after the deadline expired. (Forum 18/Release International)
Updates on religious freedom in Azerbaijan are regularly posted by Forum 18

TAKE ACTION
You can express your support for Greater Grace Church by writing to the Azeri Ambassador to Britain and Ireland, who is resident in London. A sample letter, based on a letter prepared by our friends at Release International, is below for your guidance. Please do not mention Release International or Church in Chains or any other organisation in your letter.
Your Excellency,
I am writing to express my disappointment at the recent decision of a court in Baku to liquidate Greater Grace Church. I am deeply concerned about the message your government is sending out to the world through this ruling.
Many millions around the world will be celebrating with Azerbaijan on Saturday night when the world's media are focused on your nation for the Eurovision Song Contest.
As the eyes of the world rest on Baku, I urge you, to do all you can to ensure that your government adheres to its international commitments to uphold human rights. In particular, I would urge you to ensure that your government upholds religious freedoms for all Azerbaijan's citizens, without making these freedoms conditional on state permission.
Yours sincerely,
[your name]
Please post your letter to: His Excellency Mr Fakhraddin Isa Oglu Gurbanov, Embassy of the Republic of Azerbaijan, 4 Kensington Court, London W8 5DL, (82c from Ireland)
or email it to london@mission.mfa.gov.az
Share this