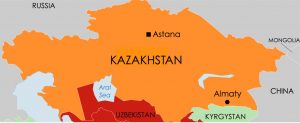 On 14 March, the Specialised Administrative Court in the southern city of Almaty fined Source of Life Church 454,000 Tenge (€1,260) for meeting for worship in a venue other than its registered address. The court also banned the church from meeting between 13 April and 12 July. The court's verdict followed a raid on a church service in January by officials from the Religious Affairs Department.
Source of Life Church had been renting a separate venue three times a week as its registered premises was too small for the congregation of about one hundred Christians. Its fine came under Administrative Code Article 490, Part 1, Point 1, which punishes "violation of procedures established in law for conducting rites, ceremonies and meetings".
The church lodged an appeal, which Almaty City Court rejected on 13 April. The church then appealed to the Supreme Court in Astana, but on 19 May the case was sent back without being heard.
Following the raid, officials brought a case against a church member who had been addressing the meeting, Indian citizen Ayothi Daniel Gunaseelan, long resident in Kazakhstan. They accused him of leading the church without registering as a "missionary". Gunaseelan is a businessman living and working legally in Kazakhstan, and maintains that he is not the pastor.
On 15 March, Almaty Specialised Administrative Court found Gunaseelan guilty and handed him a fine and deportation order under Administrative Code Article 490, Part 3, which punishes: "Carrying out missionary activity without state registration (or re-registration), as well as the use by missionaries of religious literature, information materials with religious content or religious items without a positive assessment from a religious studies expert analysis, and spreading the teachings of a religious group which is not registered in Kazakhstan." The punishment is a fine of 226,900 Tenge (€630), with deportation for a foreign citizen.
However, on 24 April, Almaty City Court overturned the fine and deportation order. Nariman Beknazarov, Prosecutor of Almaty's Zhetysu District, backed the overturning of the decision, blaming the lower court judge for "inappropriate conclusions" and "significant violations of procedural norms".
An official of Almaty's Religious Affairs Department, Karshyga Malik, told Forum 18 News Service on 24 April that the administrative cases against Source of Life Church and Ayothi Daniel Gunaseelan were among 33 it had launched since the beginning of 2017. The cases were to punish those who meet without state permission, meet in places without state permission, distribute religious literature without state permission or talk to others of their faith without state permission.
Read more about the persecution of Christians in Kazakhstan.
(Forum 18)
Share this