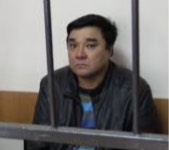 Yklas Kabduakasov has been sentenced to two years in prison labour camp. He was accused of inciting religious hatred after he discussed his faith with a group of students.
Yklas Kabduakasov (54) was arrested in August 2015, accused of inciting religious hatred, a charge he and his fellow church members deny. He was convicted on 9 November in a District Court and sentenced to seven years of restricted freedom, to be served at home. However, after he appealed the sentence it was raised to two years' imprisonment in a prison labour camp. Yklas, a father of eight, is a former Muslim who is now a Seventh Day Adventist.
The charges were initiated by Kazakhstan's National Security Committee (KNB) or secret police, which had been tracking Yklas for over a year as he spoke to others about his faith. News agency Forum 18 reported that it appears the KNB rented the flat to which four university students invited Yklas for religious discussions, organised the secret filming of the meetings with hidden cameras and used the footage as evidence in the prosecution case.
The KNB arrested Yklas in Kazakhstan's capital, Astana, on 14 August and accused him of violating Criminal Code Article 174, Part 2, which punishes "incitement of social, national, clan, racial, or religious discord" by repeat "offenders" with prison terms of between five and ten years.
Local Christians believe the real reason behind the arrest is his conversion from Islam to Christianity and the fact that he was speaking to Muslims about his faith.
Yklas was sentenced to seven years of restricted freedom and allowed to go home to begin serving his sentence. The court ordered the destruction of nine Christian books confiscated in searches at the time of his arrest.
Appeal
Yklas appealed against the decision to Astana City Court – as did the prosecutor, Asylzhan Gabdykaparov, who sought seven years' imprisonment in place of the restricted freedom sentence.
The appeal hearing began on 22 December at the City Court under Judge Gulnara Mergenova, with a further hearing on 25 December. At the final appeal hearing on 28 December, the judge increased the sentence to two years' imprisonment in labour camp. After the judge had made his ruling, KNB officials rearrested Yklas in the courtroom and took him away to prison. The twelve weeks he spent in pre-trial detention will count towards his two-year prison term.
Kazakhstan imposes strict controls on religion. Only state registered religious communities are permitted, and even they face restrictions, including on where they may hold events. Religious literature is tightly restricted and evangelism is prohibited. Police frequently raid church meetings, and Christian converts from Islam come under pressure from family and community to recant. Forum 18 reports that in 2015 there was a significant rise in violations of freedom of religion or belief in Kazakhstan, including the jailing of prisoners of conscience.
Reaction
Yklas' lawyer Gulmira Shaldykova said that the sentence was too harsh, especially in view of the fact that six of his children are still minors, and said she would discuss with her client whether to appeal against the verdict to a higher court.
Pastor Andrei Teteryuk of Astana's Adventist Church condemned the sentence as a violation of the United Nations Universal Declaration of Human Rights and other international human rights documents that Kazakhstan has signed up to.
(Forum 18)
Share this