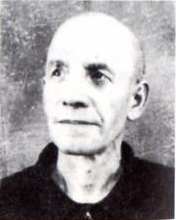 Yakov Skornyakov, aged 77, is facing charges under Kazakhstan's new religious laws for leading an unregistered Baptist church. Yakov served time in Soviet prisons on three separate occasions for his religious beliefs. His last prison sentence ended twenty years ago in 1986.
The case against Yakov has been taken by Kadyraly Ospanov, public prosecutor of the town of Taraz in southern Kazakhstan. He defended his actions by saying, "Kazakhstan's laws categorically lay down the requirement for a religious community to register and prevent a religious community from operating without registration. I am simply obliged to ensure that the law is observed."
Mr. Ospanov gave assurances that Yakov "will not have significant problems". "We are not beasts. I am sure that the court will take his age into account. Imprisonment, even for a few days, cannot be a consideration for Skornyakov." It is not yet known when Yakov's case will be heard by the administrative commission.
Yakov's congregation – like all other congregations of the Baptist Council of Churches – refuses to register on principle with the authorities in any of the post-Soviet countries. They believe such registration leads to unacceptable government interference in their internal affairs. It remains unclear what form Ospanov's "investigation into how the law of the Republic of Kazakhstan on freedom of religion and of religious associations is applied in the activity of the Council of Evangelical Christian Baptist Churches" will take. Ospanov has named his senior assistant, V. Tsoi, to lead the investigation.
On 28 March Baptists from Taraz wrote to Kazakhstan's president Nursultan Nazarbayev to complain of pressure on their congregations in the town and the rising number of such prosecutions across Kazakhstan. They said the pressure takes the form of visits by representatives of the prosecutor's office to church services. Officials take photographs or video footage of church members without their consent, write down the names of those at services and draw up reports. They then put together cases alleging administrative offences which they bring to court. Church members are then fined or, on occasion, given short terms of imprisonment. (Forum 18)
Share this