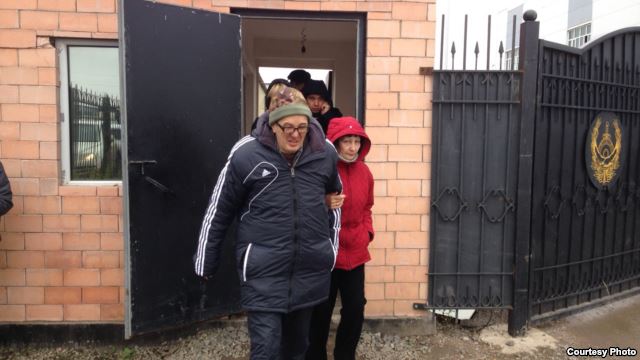 Pastor Bakhytzhan Kashkumbayev was freed from prison on 8 October, to be transferred to house arrest, but was arrested within minutes on new charges of "extremism".
The retired Presbyterian pastor of Grace Church in the capital, Astana, is being held at Astana Police's Temporary Isolation Prison. He was originally arrested on 17 May 2013 on criminal charges of "harming the health" of a member of his congregation (see Background, below) but is facing a new criminal investigation of being an "extremist" or "terrorist". The case is being overseen by the Police Anti-Extremism Department. Under Kazakh law, those arrested can be held for up to three days, after which either a court must extend their detention or they must be freed.
Family members have not been given any information about the new accusation. The pastor's younger son Askar Kashkumbayev said, "These new accusations are complete rubbish. They're trying to turn my father into a terrorist." He added that his mother, Alfiya, "is suffering a lot". Pastor Kashkumbayev will be 67 on 19 October.
At a hearing on 7 October, after nearly five months' imprisonment – one month of it in psychiatric hospital – a court in Astana ordered that the pre-trial detention of Presbyterian Pastor Bakhytzhan Kashkumbayev be extended until 17 November, but that he would be transferred from prison to house arrest, under tight restrictions, while the criminal investigation against him continues. The transfer was expected to take place on 8 October, and the rearrest took everyone by surprise.
Until the rearrest, the pastor had not seen Alfiya or any other family member, except his younger son, since his original arrest in May. since mid-September, Askar Kashkumbayev has been able to visit his father a couple of times, and he was able to meet him on 7 October in the Investigation Prison. The pastor's sons have been allowed to give him parcels of food and clothes, but each time they have to pay about €45-50 to do so.
Release and rearrest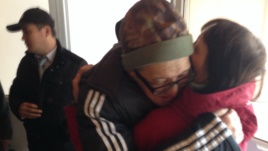 Pastor Kashkumbayev's lawyer Nurlan Beisekeyev, Alfiya and other family members arrived at the prison on the morning of 8 October, expecting him to be released to house arrest. Formalities were completed at about 1pm, and Pastor Kaskhkumbayev was reunited with his wife. Video footage taken by a family member shows Pastor Kashkumbayev displaying varicose veins on his legs, and his wife weeping.
Three plain-clothes officials sent by Police investigator Captain Vyacheslav Glazkov were waiting at the prison gate, and ordered Pastor Kashkumbayev to accompany them to the police station for questioning by Captain Glazkov. Pastor Kashkumbayev's lawyer, accompanied by the officials, drove him and his wife to the police station, where Captain Glazkov said that a new criminal accusation had been lodged in parallel with the existing criminal investigation. The pastor is being investigated for alleged violation of Article 233-1, Part 1 of the Criminal Code, which punishes "Propaganda of terrorism or extremism, or public calls to commit an act of terrorism or extremism, as well as the distribution of material of the content indicated" with imprisonment of between three and seven years.
Captain Glazkov claimed that an "expert analysis" had found "elements of an extremist nature" in the activities of the church. The lawyer and Alfiya Kashkumbayeva were then threatened with violence if they did not leave the police station. Alfiya left, and Captain Glazkov told the lawyer that he represented Pastor Kashkumbayev only in the original case, not in the "extremism" case. After further physical threats, the lawyer left.
Askar Kashkumbayev said he and his family are very concerned over the pastor's state of health: "We had hoped that he would be able to have treatment for varicose veins while he was under house arrest. He's in pain over this, and they made him stand in a corridor for two hours at the prison yesterday." The prison head, when told of the family's concern about his state of health and the fact that the order to transfer him to house arrest had been partly based on his state of health, said: "His health is normal. He is being checked by a paramedic. People don't die here in my prison."
"Expert analyses" and "Extremist" books
Even before the first criminal case against Pastor Kashkumbayev was launched in October 2012, a series of "expert analyses" appears to have been conducted on various aspects of Grace Church's activity and materials, according to court documents seen by Forum 18 and information published by Guldana Almenova (the estranged sister of Grace Church member Lyazzat Almenova, who is central to the case – see Background, below) and an organisation she leads, the Support Centre for Victims of Destructive Religious Movements.
The "expert analyses" relate to the three main state accusations against Grace Church and Pastor Kashkumbayev: distributing "extremist" books, harming psychological health and using hallucinogenic juice for communion.
A Russian translation of the book Healing the Broken Family of Abraham by American Christian Don McCurry, confiscated during the police raid on Grace Church in April 2012, was found, by the Almaty Institute for Judicial Expert Analysis of the Justice Ministry, to contain "elements of incitement to religious hatred and discord". In November 2012, a judge ruled the book "extremist" and banned its publication, import and distribution in Kazakhstan. Another book confiscated from Grace Church, Worthy Answers, written by two local Christians, Galymzhan Tanatgan and Zhomart Temir, was found to contain "elements of incitement of religious hatred and discord". The police and secret police have seized both books repeatedly as "extremist".
7 October Hearing

The decision to transfer Pastor Kashkumbayev to house arrest, now superceded, had been made by Judge Nurlan Bayakhmetov of Astana's Almaty District Court No. 2 at a hearing on 7 October. At the hearing, Prosecutor's Office official K. Artykbayev asked for Pastor Kashkumbayev's detention in prison to be extended until 17 November. Judge Bayakhmetov agreed to the extension but rejected the call for him to spend this time in prison. Noting Pastor Kashkumbayev's age and the fact that his health requires "suitable treatment", the Judge said his "complete isolation" was "not necessary". The pastor suffered a serious heart attack in 2011 and has varicose veins and several chronic health issues (gastritis, bronchitis and inflammation of both ears).
According to the terms of the court decision, Pastor Kashkumbayev would have been "banned from associating with anyone apart from close relatives living with him, receiving and sending letters, holding conversations with the use of any communications devices", he might only leave his home to receive medical attention, and the police were to supervise his behaviour.
Surveillance
Pastor Kashkumbayev's family told Forum 18 that on 4 October they had arranged a meeting at Grace Church to discuss the case with visitors from the United States, together with US Embassy officials. Two cars with video cameras were waiting outside the church building and filmed those arriving for the meeting.
"The authorities could only have known of the meeting from listening in to our phone calls," a church member said. When a member later went out to film the two cars and their activity, the cars disappeared quickly.
Kazakhstan introduced a controversial religion law in 2011, which has wreaked havoc among religious minorities, particularly evangelical Christians and Muslim sects. Churches' legal rights to gather were revoked and Christians can be arrested and fined for meeting together to pray without government permission.
Background
The case against Pastor Kashkumbayev relates to a complaint made in July 2011 by a church member's mother, who claimed that her daughter had suffered psychological harm after attending Grace Church. In September 2012, expert assessment of Lyazzat Almenova (34) claimed that regular attendance at the church had led her to develop paranoid schizophrenia. Church members strongly reject the allegation, and Liazzat Almenova rejects any suggestion of harm to her health. She wrote to the Astana Prosecutor's Office to say that she is psychiatrically healthy and that the 2012 assessment was conducted illegally, and calling for the case to be abandoned. She said in July that Pastor Kashkumbayev "is totally innocent and has not harmed my health at all".
In October 2012, after raiding Grace church, detaining and questioning members and taking literature and money, police told the local media that the church members were being harmed by being "given hallucinogens to drink". The alleged hallucinogen was a local red tea used as a non-alcoholic communion wine, bought by church members in nearby shops. At Pastor Kashkumbayev's court hearing on 19 May, however, the main accusation did not relate to the tea, but rather to praying in tongues and singing, which were said to have caused the mental injury to Ms Almenova.
The criminal case, opened in October 2012, was for "causing considerable harm to the psychological health" of a church member. The prosecutor alleged "the crime was carried out by Kashkumbayev under the guise of carrying out charitable and religious activity by means of exerting psychological influence on church members, including with the use of stupefying substances [the red tea] with the aim of collecting gifts for the use of the association".
In August 2013, Pastor Kashkumbayev was transferred from prison to Almaty's Centre of Psychiatry, Psychotherapy and Narcology. In early September, when he was discharged back to prison, the centre's chief doctor Natalya Logacheva refused to say whether Pastor Kashkumbayev had been found to be psychologically healthy and responsible for his actions, citing confidentiality. She also refused to say whether any psychotropic or other drugs had been administered to him. Human rights defenders in Kazakhstan are growing increasingly concerned at the way the state is involving psychiatrists in cases of religious freedom and political opposition.
The case against Grace Church
Pastor Kashkumbayev's lawyer, Nurlan Beysekeyev, is also the lawyer for Grace Church, which is subject to a separate criminal investigation. The investigators have given the lawyer no information about the case against its members. On 19 March Captain Vyacheslav Glazkov launched a criminal case in connection with allegations that members of Grace Church were inciting "religious hatred". Officials have alleged that the church is involved in espionage, fraud, money laundering, distributing extremist texts and using hallucinogenic communion drink.
Embassy of Kazakhstan
David Turner, Director of Church in Chains, spoke by telephone on 10 October 2013 to an official at the Embassy of Kazakhstan to the UK and Ireland, in London. Told of the concerns of Irish Christians about Pastor Kashkumbayev, the official said, "Thank you for your opinion", but would not discuss the case and seemed unaware of the latest developments. She acknowledged that a letter sent by Church in Chains on 31 July 2013 had not been answered.
(Forum 18, World Watch Monitor)
Share this