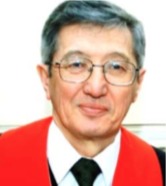 Pastor Bakhytzhan Kashkumbaev (66) was arrested on 17 May 2013 and ordered to be held for up to two months' pre-trial detention while the case against him is investigated.
Pastor Kashkumbayev, of Grace Church in Astana, the capital, is being held in the Interior Ministry's Investigation Isolation Prison in Astana. His lawyers have been given access to him, but his wife and other family members have not. It is believed that Pastor Kashkumbayev's arrest is part of the government's efforts to restrict the freedom of churches and in particular to penalise any Muslim who becomes a Christian.
The case relates back to a complaint made in July 2011 by the mother of a church member who claimed that her daughter had suffered psychological harm after attending the church. In September 2012, expert assessment of Lyazzat Almenova claimed that regular attendance at the church had led her to develop paranoid schizophrenia. Church members strongly reject the allegation, and Liazzat Almenova has written to the Astana Prosecutor's Office to say that she is psychiatrically healthy and that the 2012 assessment was conducted illegally.
In October 2012, after raiding the church, detaining and questioning members and taking literature and money, police told the local media that the alleged "harm" was caused by church members being "given hallucinogens to drink". The prosecutor said, "The crime was carried out by Kashkumbayev under the guise of carrying out charitable and religious activity by means of exerting psychological influence on church members, including with the use of stupefying substances with the aim of collecting gifts for the use of the association." The alleged hallucinogen was a local red tea used as a non-alcoholic communion wine, bought by church members in nearby shops.
At Pastor Kashkumbaev's court hearing on 19 May, however, the main accusation did not relate to the tea, but rather to praying in tongues and singing which were said to have caused the mental injury to Liazzat Almenova. In Kazakhstan the charge of "intentional inflicting of serious harm to health" carries a penalty of between three and seven years' imprisonment.
Separate to the case against Pastor Kashkumbayev, on 19 March senior police investigator Captain Vyacheslav Glazkov launched a criminal case on in connection with allegations that Grace Church, or members of it, were inciting "religious hatred". An official of Astana Prosecutor's Office told Forum 18, "The case is not against the church itself, but investigating the fact of incitement of religious hatred. No specific individuals are suspects at the moment." As criminal cases can only be launched against individuals, it appears that if investigators and prosecutors conclude there is a case to answer, allegations would have to be launched against specific church members. "They are moving against Evangelical Christians," a church member told Forum 18. "It is no surprise that they have launched another criminal case."
Concerns for Kazakh Christians

Kazakh Christians are deeply concerned about the detention of Pastor Kashkumbaev, for two main reasons. First, they believe that recent changes in the law regarding religious organisations appear to limit the rights of individuals to practise their religion and are inconsistent with the Constitution (which guarantees freedom of religion) and seem to contravene the religious freedom principles enumerated in the Preamble to the Law on Religion.
Second, many believe that the authorities are targeting Christians who are former Muslims – in Kazakhstan, the thinking is that to be Kazakh is to be Muslim. Several Protestant denominations in Kazakhstan operate relatively undisturbed (some have even been granted registration) but 80 percent of Grace Church members are, like Pastor Kashkumbaev, ethnic Kazakhs and former Muslims.
Repression
Kazakh officials have been engaging in widespread raids of homes and places of worship – read some examples below – and aggressively enforcing the new Religion Law. Senior state religious affairs official Kairat Lama Sharif described the fall in the number of registered religious communities as a "positive dynamic" after 579 small religious groups (with fewer than 50 adult citizen members) were stripped of registration and deprived of their legal right to exist. These deregistered groups have been warned by government officials to stop all activity or risk sanctions.
Wade Kusack of Russian Ministries believes the arrest of Pastor Kashkumbaev is reminiscent of the way Christians were arrested during the Soviet era. There is a huge danger, he says: "If the church all over the world ignores this and there is no reaction from the West, I believe this type of persecution will continue."
Recent Raids
On 25 May, secret police raided the Almaty premises of the charity United Mercy in Central Asia, which has state registration. Officers seized religious literature and documentation about the work of the charity over the last nine or ten years. Questioning of charity workers continued after the raid. One of the books seized was Worthy Answers, by two local Christians, which has been seized in earlier raids on churches. During a confiscation in October 2012, police alleged that the book is banned and contains "extremist" ideas.
In early May, Baptist leader Aleksei Asetov was jailed for three days for refusing to pay a fine equivalent to a year and a half's average local wages, for meeting for worship without state permission.
On Easter Sunday, five police officers raided a home for hosting nine members of a small congregation of the New Life Pentecostal Church who were meeting for private worship. Church members were summoned to the police station, interrogated for six hours and several were fined.
In January 2013, the authorities raided at least eight worship meetings.
(Forum 18, Release International)
Share this