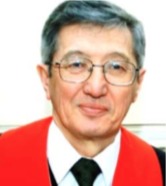 Pastor Bakhytzhan Kashkumbayev was transferred to an Investigation Prison in the capital, Astana, after his release from Almaty's Centre of Psychiatry, Psychotherapy and Narcology on 2 September.
Pastor Kashkumbayev's detention has been extended to 17 October, two days before his 67th birthday, while the case against him continues. It is not clear when or if a trial will be held and what the outcome might be. The pastor of Grace Church in Astana, Pastor Kashkumbayev was arrested on 17 May on criminal charges of "harming the health" of a member of his congregation. He was transferred from prison to Almaty's Centre of Psychiatry, Psychotherapy and Narcology on 5 August, to undergo enforced psychiatric assessment. For a couple of weeks after his release from the psychiatric ward on 2 September, the government refused to reveal his whereabouts, even to his family and lawyer – since his arrest in May, no one had been allowed to see him.
Recently, however, Felix Corley of Forum 18 said that Pastor Kashkumbayev has been seen by his lawyer and said, "His detention has been extended by an Astana court on 12 September until 17 October." The pastor's son Askar Kashkumbayev told World Watch Monitor that since mid-September he has been able to visit his father a couple of times, but the pastor's wife is still awaiting permission to be allowed visit. Pastor Kashkumbayev's sons have been allowed to give parcels of food and clothes to their father, but each time they have to pay about €45-50 for the privilege. Askar said he did not know why his father had been arrested, but he said he thought it could be as a warning to other Kazakhs not to change religions. Last month, Askar told Forum 18 that the authorities were trying to humiliate his father and damage the image of the church.
Kazakhstan introduced a controversial religion law in 2011, which has wreaked havoc among religious minorities, particularly evangelical Christians and Muslim sects. Churches' legal rights to gather were revoked and Christians can be arrested and fined for meeting together to pray without government permission.
(Forum 18, International Christian Concern, World Watch Monitor)
Share this