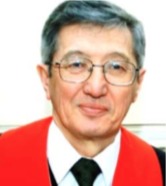 Pastor Kashkumbayev was discharged from psychiatric hospital on 2 September, after one month's forcible detention. The criminal investigations against him and his church continue.
Presbyterian Pastor Bakhytzhan Kashkumbayev (67) was discharged from Almaty's Republican Scientific/Practical Centre of Psychiatry, Psychotherapy and Narcology, but his current whereabouts are not known. Pastor Kashkumbayev was sent from Almaty's Investigation Prison to the centre on 5 August, to undergo enforced psychiatric assessment. The pastor of Grace Church in Astana, he had been arrested on 17 May on criminal charges of "harming health" (see "Background", below).
The centre's chief doctor, Natalya Logacheva, told Forum 18 News Service, "He was taken away by convoy," but insisted she did not know if he had been transferred back to prison. The investigator in the case, Captain Vyacheslav Glazkov, refused to say where Pastor Kashkumbayev is, but on 4 September he told Forum 18, "The criminal investigation is still underway." Captain Glazkov refused to discuss the criminal case against Pastor Kashkumbayev, or the separate criminal investigation against Grace Church (see "The case against Grace Church", below).
Askar Kashkumbayev, one of the pastor's sons, said that family members have been unable to see his father since his arrest. "I last saw him in court on 17 May," he said, adding that while relatives in Almaty had been able to take food parcels to the pastor while he was being held in prison there, they were not allowed to see him.
Pastor Kashkumbayev's lawyer, Nurlan Beysekeyev, has not been able to see his client since 18 July, when he met him in the Investigation Prison in Astana, the capital (where he was held before being transferred to Almaty). "My client has not been brought to court for the various hearings, despite my requests," he said. "In effect he is being held incommunicado."
Mr Beysekeyev said that Captain Glazkov gave him no information about the psychiatric investigation of his client or where he would be transferred. Mr Beysekeyev said, "I have also been seeking access to the documents in the criminal case – in vain." He noted that the court ruled on 26 July that Investigator Glazkov must give him and Pastor Kashkumbayev's son access to the case documents, but despite the ruling coming into legal force on 8 August, the investigator still will not grant access. The lawyer said, "This is a crude violation of the law – court decisions must be carried out by everyone."
Pastor Kashkumbayev's diagnosis
Dr Logacheva refused to say whether her centre found Pastor Kashkumbayev to be psychologically healthy and responsible for his actions, citing confidentiality. She also refused to say whether any psychotropic or other drugs had been administered to him, but insisted that he is healthy. "I observed him for a whole month, and he is alive and well," she said.
However, Pastor Kashkumbayev's family and church members are concerned about his health. He suffered a serious heart attack in 2011 and has varicose veins and several chronic health issues (gastritis, bronchitis and inflammation of both ears), although he insists that he is psychologically healthy.
Background
The case against Pastor Kashkumbayev relates back to a complaint made in July 2011 by the mother of a church member who claimed that her daughter had suffered psychological harm after attending Grace Church. In September 2012, expert assessment of Lyazzat Almenova (34) claimed that regular attendance at the church had led her to develop paranoid schizophrenia. Church members strongly reject the allegation, and Liazzat Almenova has written to the Astana Prosecutor's Office to say that she is psychiatrically healthy and that the 2012 assessment was conducted illegally.
In October 2012, after raiding Grace church, detaining and questioning members and taking literature and money, police told the local media that the church members were being harmed by being "given hallucinogens to drink". The alleged hallucinogen was a local red tea used as a non-alcoholic communion wine, bought by church members in nearby shops. At Pastor Kashkumbayev's court hearing on 19 May, however, the main accusation did not relate to the tea, but rather to praying in tongues and singing which were said to have caused the mental injury to Liazzat Almenova. She rejects any suggestion of harm to her health, and says that the pastor is innocent.
The case against Grace Church
Pastor Kashkumbayev's lawyer, Nurlan Beysekeyev, is also the lawyer for Grace Church, which is subject to a separate criminal investigation. The investigators have given him no information about the case against its members. On 19 March Captain Vyacheslav Glazkov launched a criminal case in connection with allegations that members of Grace Church were inciting "religious hatred".
(Forum 18)
Share this