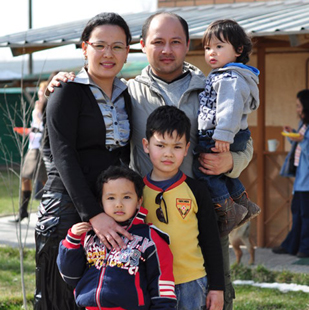 Makset Djabbarbergenov (32), a former house church pastor from Uzbekistan, has been imprisoned in a Kazakh jail. He is awaiting a ruling on whether he will be returned to face charges in Uzbekistan, where he is wanted for "illegal" religious teaching and literature. Kazakhstan's Supreme Court is considering whether to declare him a refugee, given that he faces persecution if he returns to Uzbekistan.
Makset was arrested on 5 September 2012 in Almaty, Kazakhstan's largest city, financial centre and former capital. (Astana became the capital in 1997.) He was detained after police held his sister-in-law for two weeks, using her to find his whereabouts. Forum 18 (a human rights organisation that promotes religious freedom) reported that the police used her mobile phone to obtain the phone number of Makset's wife Aigul, tracked down the location of the family home and arrested Makset.
Born in the small Uzbek town of Symbai, Makset became a Christian in 2000 and soon became a church leader in Nukus, the capital of Karakalpakstan, an autonomous republic of Uzbekistan. Makset and Aigul have four children and are expecting a fifth next April. When the family lived in their native Uzbekistan, Makset was fined for his religious activity and had his home raided and Christian books confiscated.
On 7 September a court ordered that Makset be held in detention until Kazakhstan's General Prosecutor's Office decides whether to extradite him. The Uzbek authorities want Makset sent back to face charges that, as pastor of a Protestant house church, he practiced religion outside state regulation (no Protestant church has official registration in Karakalpakstan – they are considered illegal). On 8 September Makset was transferred to Almaty's Investigation Prison.
Speaking from his jail cell, Makset told a friend he was too disturbed to eat during the first few days of his imprisonment. He said to the friend that at first he told God he did not want this cross, but that now, "I pray that if this is from you, Lord, I will accept whatever you say. Just help me to carry it."
Background
In August 2007, anti-terrorism police raided the family's Nukus apartment, claiming Makset was holding an "illegal" religious meeting. Police detained him, but did not prevent him leaving the police station several hours later to attend to his distressed wife, who was seven months pregnant with their third child. Makset and Aigul fled to Tashkent, the capital of Uzbekistan.
Later that month, Nukus police issued a wanted poster, seen by Forum 18, stating that Makset was a follower of Isa Masih (Jesus Christ) and was being sought to face charges under Article 229-2 of the Uzbek Criminal Code, which punishes "violation of the procedure for teaching religion" and carries a maximum term of three years' imprisonment. He is also wanted under Article 244-3, which punishes "illegal production, storage, import or distribution of religious literature" and also carries a maximum term of three years' imprisonment.
To avoid arrest, Makset crossed into Kazakhstan on 11 September 2007, where he sought refugee status. His wife and children joined him in 2008, and since then they have been seeking asylum in Kazakhstan. The Office of the United Nations High Commissioner for Refugees determined the family to be refugees who would face prosecution in Uzbekistan because of their Christian faith, but the Kazakh government disagreed and has ruled against Makset several times. His case now rests before the Supreme Court, which has yet to set a hearing date.
Uzbekistan's Record
Uzbekistan is ranked seventh on Open Doors' World Watch List of the 50 countries where it is most difficult to be a Christian. Christians are fined or given short-term prison sentences, and when brought to court fair treatment is not ensured. The US State Department and the US Commission on International Religious Freedom have designated Uzbekistan as a "country of particular concern". In its 2012 annual report, the Commission stated, "The Uzbek government violates the full range of human rights and harshly penalises individuals for independent religious activity regardless of their religious affiliation," including Muslims.
In June 2012 the United Nations Committee Against Torture ruled that, by extraditing 28 Uzbek Muslim refugees and asylum seekers in June 2011, Kazakhstan had violated its commitments under the Convention against Torture and Other Cruel, Inhuman or Degrading Treatment or Punishment. The men were wanted by the Uzbek authorities on anti-state and religion-related charges. They were arrested on their return and some received prison terms of more than ten years. Relatives of the men say they were peaceful Muslims whom the authorities were seeking to punish for their religious activity. 


The Committee found that "the pattern of gross, flagrant or mass violations of human rights and the significant risk of torture or other cruel, inhuman or degrading treatment in Uzbekistan, in particular for individuals practicing their faith outside of the official framework, has been sufficiently established". (Forum 18, Open Doors News)
Share this