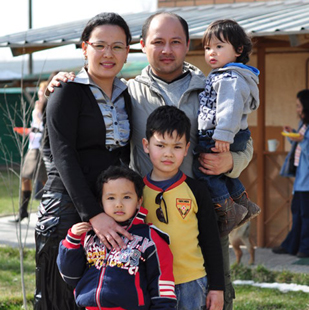 Uzbek pastor Makset Djabbarbergenov (32) was released from prison in Kazakhstan on 4 December and flown to safety in Europe.
Three months after he was detained on an extradition request from Uzbekistan, Pastor Makset was suddenly released from prison in Kazakhstan's former capital Almaty and taken to the airport to be reunited with his wife Aigul and their four children. About twenty members of his church gathered at the airport to see the family off. His friends in Almaty, who described the events to Forum 18 News Service, said: "we need to thank the Kazakh government – they did the right thing". The family flew to Frankfurt early on 5 December, before travelling on to another country in Europe.
The authorities allowed the United Nations High Commissioner for Refugees (UNHCR) to facilitate Pastor Makset's release and resettlement. On release, UN officials took him straight to the airport and stayed to see him through passport control. Border guards at the airport told Pastor Makset that he was banned from re-entering Kazakhstan until 2017.
Pastor Makset was arrested in Almaty on 5 September 2012, on Uzbekistan's request. On 7 September a court ordered his detention for 40 days while Kazakhstan's General Prosecutor's Office considered the extradition case. This period was extended on 15 October and again on 5 November while further documentation was awaited from the Uzbek General Prosecutor's Office. Pastor Makset's release came just before the latest detention period was due to expire.
Charges
Uzbekistan had been seeking to have Pastor Makset extradited on charges that carry a maximum 15-year prison term, for leading an unregistered Protestant church – he had been leader of a church in Nukus, the capital of Karalpakstan, an autonomous republic in northwest Uzbekistan. No Protestant church in Karakalpakstan has official registration; they are considered illegal.
The Uzbek authorities' charge sheet said that he was charged under Uzbek Criminal Code Article 229-2 and Article 244-2, Part 1. Article 229-2 bans "teaching religious beliefs without specialised religious education and without permission from the central organ of a [registered] religious organisation, as well as teaching religious beliefs privately", and carries a maximum term of three years' imprisonment. Article 244-2, Part 1 bans "creation, leadership or participation in religious extremist, separatist, fundamentalist or other banned organisations", which is punishable by five to 15 years' imprisonment.
Wanted
Pastor Makset fled Karakalpakstan in August 2007 after police raided his home, claiming he was holding an "illegal" religious meeting. They confiscated Christian literature, money and a computer. Uzbekistan then started a nationwide hunt for him, and he crossed into Kazakhstan in September 2007. Pastor Makset settled in Almaty and sought refugee status with the UNHCR, and his wife and children joined him in 2008.
In February 2008 the Office of the UNHCR determined the family to be refugees who would face prosecution in Uzbekistan because of their Christian faith. However, the Kazakh government denied them refugee status. They challenged this ruling through the courts, which several times rejected the asylum application.
The Uzbek authorities continued to hunt Pastor Makset. He was detained by the Kazakh secret police in May 2008, and only released after the UNHCR searched for him and sought his release.
Other Extraditions
In June 2011 Kazakhstan extradited 29 Uzbek Muslim asylum seekers who claimed that they would face torture in Uzbekistan. The Uzbek authorities wanted them on anti-state and religion-related charges. The men were arrested on their return and some received prison terms of more than ten years. In June 2012 the UN Committee Against Torture ruled that Kazakhstan, by extraditing them, had violated its commitments under the Convention against Torture and Other Cruel, Inhuman or Degrading Treatment or Punishment.
Uzbekistan is ranked seventh on Open Doors' World Watch List of the 50 countries where it is most difficult to be a Christian. The UN Committee Against Torture found in November 2007 that the use of torture by state officials in Uzbekistan is "routine" (Forum 18, Open Doors News)
Share this