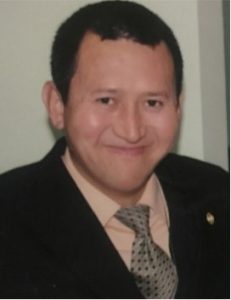 Tajik pastor Bakhrom Kholmatov has been released from prison three months early. He was due for release in March 2020, but was freed at 10 am on 18 December.
Pastor Bakhrom (43) was arrested and imprisoned in April 2017 after secret police officers raided his church, the Sunmin Sunbogym (Good News of Grace) Protestant Church in Khujand, capital of the Soghd region of northwest Tajikistan. In July 2017 he was sentenced to three years in prison for "singing extremist songs in church and so inciting religious hatred".
Pastor Bakhrom served most of his sentence in Yavan Prison in the southern Khatlon Region, 360km from his home in Khujand, where he lives with his wife Gulnora and their sons Firdavs (22) and Firus (20) and daughter Gulnoza (15). Gulnora has suffered from exhaustion, stress and high blood pressure since her husband's imprisonment.
On his release, Pastor Bakhrom said, "I'd like to express my huge gratitude to all the people who supported and prayed for me, my family and my church. All these three years I felt your prayers, they helped me to stand, they helped my precious wife and children, they helped the members of my church who were left without a pastor, then kicked by the authorities out of our building. Your prayers helped us to stand strong through all these difficulties, to grow spiritually and to transform into the nature of our Heavenly Lord! Thank you from all my heart! Glory to God!"
Background
On 10 April 2017, secret police from the National Security Committee raided Pastor Bakhrom's church, where they found song books and Christian literature. They summoned the pastor for questioning and then arrested him and charged him with extremism. Officials claimed that Christian songs found on the pastor's computer and the book More Than a Carpenter by Josh McDowell were "extremist and calling people to overthrow the government".
Local Christians believe the secret police used the songs and literature against Pastor Bakhrom because they could not find anything illegal in the church. As in other countries in Central Asia, Tajik officials often use accusations of extremism to put pressure on churches to cooperate with the state.
Forum 18 News Service reported that the authorities threatened Pastor Bakhrom's family and friends and other church members, warning them not to reveal any details of his case, trial or imprisonment. Forum 18 said he was sentenced under Criminal Code Article 189: "Inciting national, racial, local or religious hatred or dissension, humiliation of national dignity, as well as propaganda of the superiority of citizens based on their religion, national, racial, or local origin, if committed in public or using the mass media".
Affiliated churches in the Soghd region were raided in February 2017, and in March 2017 officials closed down an affiliated church in Konibodom, 80 km east of Khujand, after interrogating and torturing church members.
Read Bakhrom Kholmatov's Prisoner Profile.
(Forum 18/World Watch Monitor)
Share this