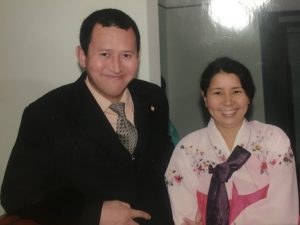 Many Church in Chains supporters will have sent a card to Christian prisoner Bakhrom Kholmatov this Christmas. When Bakhrom's wife Gulnora Kholmatova visited him in Yavan prison in November, she said that "Bakhrom is feeling well both physically and morally. He is aware that letters of encouragement to him from Christians from all over the world keep arriving, but the [prison authorities] do not give him letters."
On 17 December, Forum 18 News Service, which monitors violations of freedom of thought, conscience and belief in Central Asia, contacted Colonel Makhmudzoda, Deputy Head of the department which oversees prisons in Tajikistan. He promised to investigate the matter of post being withheld from Bakhrom Kholmatov and to call back the following day. In the follow-up phone call on 18 December Makhmudzoda assured Forum 18 that he had spoken to Bakhrom and the head of Yavan Prison, where the Protestant pastor has been serving a three-year prison sentence since 2017. "The head said that he is a good guy, has exemplary behaviour, and there are no problems with him in the prison. We agreed that if any problems arise, I asked Kholmatov to contact us." When Forum 18 insisted that letters would be now given to Kholmatov, Makhmudzoda replied: "Yes, of course."
Prison visits by Bakhrom's wife Gulnora have been limited by the authorities. She was only allowed to visit Bakhrom in April, August and November 2018. When Gulnora asked her husband about his prison conditions during her August visit, he repeatedly said that she could find her answers in Acts 20:24, which states: "However, I consider my life worth nothing to me; my only aim is to finish the race and complete the task the Lord Jesus has given me—the task of testifying to the good news of God's grace."
Having appealed his sentence once before with no success, Bakhrom has decided not to appeal further.
Gulnora has been struggling with exhaustion, stress and high blood pressure due to her husband's imprisonment. There are also family issues as Bakhrom is from a Muslim background and his mother and other relatives have spoken out that he should have remained Muslim and then he would have not ended up in prison. However, it is unclear whether the relatives were pressured by authorities to express this view.
Please continue to remember Pastor Bakhrom, his wife Gulnora, two sons Firdavs (21) and Firus (19) and daughter Gulnoza (14) in your prayers as they face many challenges in 2019.
(Forum 18/Voice of the Martyrs)
Read Bakhrom's Prisoner Profile
Share this