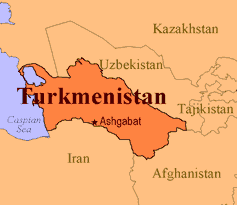 Anti-Terrorist police raided last Sunday's (14 August) worship service of a registered Baptist church in the north-eastern town of Dashoguz. After the service, police questioned church members, confiscating all Turkmen-language Bibles and Hymnbooks.
The police took particular interest in children at the service, and were diappointed they were in the service with parental permission. Next day, church leaders were summoned for "more thorough interrogation," and told that the Baptist Church's national state registration is "not valid for northern Turkmenistan."
This claim has been made elsewhere in the country, and Baptists strongly dispute it. Police pressured church leaders to sign a declaration that the church will not meet until it had state registration. "We met for worship before 'your registration' existed, and will continue to meet now we have registration, even if you did not recognise it. And we will continue to meet in future as our faith does not depend on registration," church leaders told police.
Officers warned church leaders that they had no right to hold church services or to read the Bible together in the countryside, and that such activity was an offence. They said that without registration of the congregation in Dashoguz, the congregation cannot meet or spread their faith. "Individuals can only believe alone on their own at home," police warned.
Earlier this year, Registered Baptists in the eastern towns of Turkmenabad and Mary also had their services attacked by police and similar claims were made in both cases that the congregations are in fact unregistered.
Registered congregations are pressured to give honour to the extreme cult of personality surrounding the country's president, Saparmurat Niyazov, who likes to be called Turkmenbashi, or Father of the Turkmens.
Strong official pressure also continues to be used against unregistered – and de facto illegal – communities, such as those from the Baptist Council of Churches, whose congregations refuse on principle to register with the state authorities. (Forum 18)
Share this