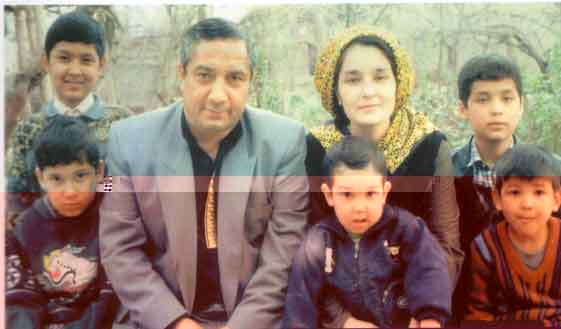 Former prisoner Shagildy Atakov, together with his wife Artygul, their five children and his brother Hoshgeldi, all Baptists, are still on the blacklist in the central Asian republic of Turkmenistan.
Shagildy leads a small independent Baptist congregation in the village of Kaakhka, near Ashgabad. He was a Christian prisoner of conscience from December 1998 to January 2001.
On 18 April 2012, at Shagildy's home in Kaakhka, he told Forum 18 (a human rights organisation which promotes religious freedom) that in Spring 2011 his brother wrote to the Migration Service in Ashgabad asking if and why they were all on the blacklist. Shagildy reported: "They replied on 24 May 2011 that the 'necessary agencies' – which they didn't identify – would have to say. Then more than eight months later, on 14 February, they wrote again to Hoshgeldi merely saying they have examined our case and we are still 'non-travelling'. They gave no explanation."
Shagildy said that local police had summoned him and other family members in February and questioned them about the activities of the church, which is not registered. "We told them we are Christians and will continue to be, and they wrote down what we said." He reported that the police keep the church under surveillance, but have not raided the congregation.
Shagildy first learnt that he had been blacklisted for foreign travel when secret
police took him off an aeroplane at Ashgabad airport in May 2006, when he was due to fly to Moscow to meet fellow Baptists. Artygul and some of their children were barred from travelling abroad in June 2008 and, later, Hoshgeldi too was banned from leaving.
In Turkmenistan, evangelical Christians face arrest, interrogation and fines for meeting together, and religious literature found during raids is confiscated. Religious organisations must be registered in order to function, and the number of copies of religious texts that may be imported is strictly regulated.
Other religious groups also suffer persecution
There is concern for several Muslim prisoners in labour camp, who are thought to have been imprisoned as a punishment for exercising their freedom of religion or belief. Jehovah's Witnesses face a particular problem because military service is compulsory for all young men in Turkmenistan and they, as conscientious objectors, face arrest and a maximum penalty of two years' imprisonment. Five Jehovah's Witness conscientious objectors are serving prison sentences and a sixth is serving a suspended sentence. They say they would be willing to do any form of alternative, non-military service.
In March 2012, the United Nations Human Rights Committee called on Turkmenistan to free imprisoned conscientious objectors and introduce an alternative service. It also called for an end to restrictions on religious education and the import of religious literature, and expressed concern about the Religion Law's requirement that religious organisations be registered in order to function and about the administrative punishments for unregistered religious activity. (Forum 18)
Share this