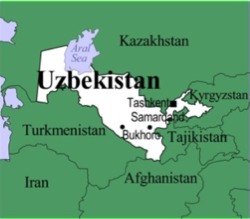 In two separate raids on 9 and 10 March, anti-terrorism police and other officials raided two homes and seized Christian literature.
Samarkand raid
On Sunday 9 March, a Baptist gathering in the home of Veniamin Nemirov in the city of Samarkand was raided. The Baptists told human rights organisation Forum 18 that the leader of the raid, Makhmud Nodyrov of Samarkand Regional Anti-Terrorism Police, "tore posters with Scripture texts from the walls, and kept threatening Nemirov that his home could be taken away from him, and that his children could be expelled from school".
Personal details were taken of those present (25 adults and the family's twelve children) and Christian literature was seized. The police are preparing charges against four members of the congregation: Veniamin and Yelena Nemirov; and Alisher and Oksana Abdullayev.
Charges are being prepared under Administrative Code Article 241 ("Violation of the procedure for teaching religious doctrines" – maximum penalty a fifteen-day prison term) and Article 184-2 ("Illegal production, storage, import or distribution of religious materials" – maximum penalty a large fine as well as confiscation of the materials).
Six officers of Samarkand Regional Police and others from unknown state agencies broke in after the service had finished. Three officials were from the mahalla (local district) committee: mahalla committees, theoretically independent but in practice under state control, are used to maintain control over religious believers of all faiths, and have been used to block registration applications.
After ringing the bell on the gates, the officials told Veniamin Nemirov that they represented the City Gas Administration. Nemirov was suspicious and refused to open the door, but two officials climbed over the gates, took his keys and opened the doors for the other officials. They broke into the basement, where church members were having tea, and began filming all those present. They also photographed each one, including small children.
The officials demanded that the Baptists hand over their literature, and when they refused, officials began a search, without showing a warrant, and confiscated literature. They demanded that church members register the church officially, and when church members said that they could not do so, the officials took photocopies of the Nemirovs' and Abdullayevs' personal documents and left, warning that they would soon be summoned for questioning. Baptists of the Council of Churches refuse to seek state registration in any of the former Soviet republics, claiming that religious activity does not need state permission.
The officials told Veniamin Nemirov that they had come because of information given to them by a school head teacher, who discovered in the school an invitation card to the church. State-sponsored news portal 12uz.com reported that the head teacher of Samarkand's Secondary School No.48, K. Narzullayeva, "warned the Samarkand Regional Police of a threat that Baptist Christians are spreading in the school their religious literature and invitations to their secret gatherings".
Forum 18 contacted Makhmud Nodyrov of Samarkand Regional Anti-Terrorism Police to ask why the officials had carried out the raid and why it was an issue for the anti-terrorism police. He replied, "They distributed leaflets in school… Who gave them the right to do so?" Asked why the police took photographs even of small children, Nodyrov responded: "Those small children gave out leaflets in school."
Following a raid on the church in August 2012 Veniamin Nemirov was fined 50 times the minimum monthly wage, and he was fined ten times the minimum monthly wage in September 2010.
Tashkent raid
The day after the Samarkand raid, anti-terrorism police in the capital, Tashkent, raided and searched the home of Vera Raupova, a member of the unregistered Bethany Baptist Church. On the afternoon of 10 March, seven officials raided her home and confiscated a large quantity of Christian literature.
A local Baptist, who wished to remain anonymous for fear of state reprisals, told Forum 18 that the authorities broke in without showing any identity documents or warrant, "under the guise of a passport regime checkup".
Other raids in early 2014
On 1 February, police in Kokand, in the eastern Fergana Region, raided the home of Abdulhafis Ashiraliyev, a member of an unregistered local Protestant church. Ten officials raided his flat, searched it and confiscated a laptop computer, which was said in a court report to contain Christian materials that "do not contain extremist teachings," but "contain teachings aimed at carrying out religious propaganda among the population". On 7 March, Judge Begzot Ergashev of Kokand City Criminal Court found Ashiraliyev guilty under Administrative Code Article 184-2 and fined him ten times the minimum monthly wage.
On the morning of 31 January, six officials broke into the home of Nadezhda Taymurzina, a member of an officially registered Baptist Church, in the village of Nurabad. This raid too was under the guise of a passport regime checkup. The officials searched the flat and confiscated Christian literature, which had been bought legally from the officially registered Bible Society.
(Forum 18)
Share this