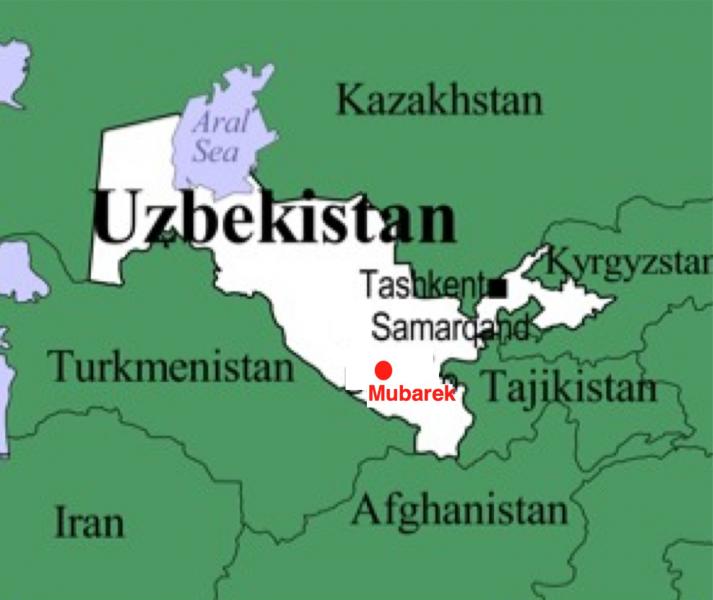 A small Baptist church in Mubarek in south-eastern Uzbekistan was raided once again during Sunday worship on 24 March 2013. It has endured more than a decade of official harassment.
Eight police officers broke into the home of Vladimir Khanyukov, where eight adults and their four children were worshipping. Members of the unregistered church told Forum 18 News Service that the officers filmed those praying, took their names and without a warrant searched the house where the church meets. They seized personal notes and family photos, as well as all the money from the church's cash-box. The National Security Service secret police leader, who gave his name as Alisher, told the Baptists that "all believers are backward-looking fanatics who drag society down".
Vladimir Khanyukov was taken to Mubarek Police Station, where he was questioned for two hours before being allowed to leave. He believes administrative charges will be brought against him and other church members. Christians in Uzbekistan face frequent raids on their homes, often without a warrant, and it is common for religious literature and other property to be seized and very large fines handed down.
Major Rajab Shavkatov, Chief of the Criminal Investigation Division of Mubarek Police, denied the participation of his Division in the 24 March search. "I don't know which agencies participated, but it definitely was not from our division," he told Forum 18 on 9 April, adding that he does not know any police officer named Alisher in Mubarek.
Vladimer Khanyukov said it was "not the first time this Alisher comes to our worship meetings and disturbs us". He added that officials "disrupt our worship several times each year with searches, confiscations and then fines." The congregation refuses to seek the compulsory state registration, and members have been repeatedly detained, questioned by police and fined, and their Christian books and other materials have been confiscated. The authorities have seized church members' household items for unpaid fines, most recently in January 2013 when bailiffs seized items to cover unpaid fines handed down in 2012.
Other recent raids and fines
There have been several other incidents of raids and heavy fines in early 2013. An Uzbek Christian who spoke to Forum 18 (but asked not to be identified for fear of state reprisals) described the fines as "unbelievably high" and said, "The authorities know where believers live and know that they have Christian literature in their homes. By raiding their homes the authorities harass believers and are trying to wear them down by the fines."
On 11 January Judge Abkhan Hashimov fined Rasulon Ahmedov of Kokand 20 times the minimum monthly wage for alleged missionary activity, which is banned by the Religion Law. The Judge claimed that Rasulon, a member of an officially registered Baptist church, had "propagandised his religious beliefs to his neighbour… and offered him to receive the Christian religion".
On 4 February, Tashkent Regional Court upheld, on appeal, large fines imposed in December 2012 on four Christians from the Tashkent region. Gennady Chen, Vladimir Zhikhar, Aleksandr Lokshev and Gennady Timoyev had been fined for leading an unregistered worship meeting. Each was fined 50 times the minimum monthly wage.
On 10 February, in the central region on Samarkand, police officers raided the home of Jamila Jurakulova, a member of a local Protestant Church, and confiscated seven Christian books and ten DVDs.'Ä® She was fined 50 times the minimum monthly wage, and an appeal failed.
On 1 March, in Nukus, the capital of Uzbekistan's northwestern Karakalpakstan autonomous republic, four officials broke into and searched the flat of Omangul Bekmuratova, a local Christian. They confiscated 40 Christian books and other materials, her laptop, modem and computer memory chip, and family photo albums. On 28 March, Nukus City Criminal Court found Omangul guilty of "illegally storing religious materials". Although the recommended fine is between 20 and 100 times the minimum monthly wage, the judge only fined her one minimum monthly wage.
On 18 March, eight police officers raided a flat rented by Christian couple Ashraf and Nargisa Ashurov. The officers did not have a warrant, and at the time of the raid the Ashurovs were out and a babysitter was minding their children. A Tashkent court fined each of them 100 times the minimum monthly wage; it is reported that the Ashurovs "barely earn any living". They were found guilty of violating the procedure for conducting meetings, the law on religious materials and the Religion Law. The babysitter, who is not a Christian, was fined the same amount. In a rare decision, the judge ordered the return of confiscated Christian books and DVDs and a computer hard drive. A Tashkent Christian who knows the family told Forum 18 that the accusations are false.
(Forum 18)
Share this