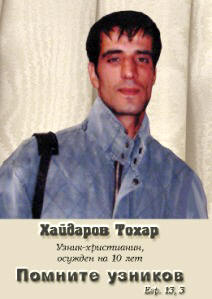 Lawyers for Tohar Haydarov, a 27-year-old Baptist from Tashkent, are preparing an appeal to the Uzbek Supreme Court against a ten year jail sentence imposed on him on drugs charges earlier this year.
The image (left) is of a Prayer Card that has been circulated by Tohar's friends in the Baptist church in Uzbekistan, who are convinced that the charges against him have been fabricated. Tohar has been described by his fellow Christians as "a man with a pure conscience and an honest Christian". Several of his non-Christian neighbours gave written statements to police following his arrest back in January referring to him as a as a "conscientious, honest and orderly person".
An earlier appeal against his conviction was dismissed in April despite evidence of major discrepancies in the prosecution case including contradictions in the police records and the alleged witnesses' written statements of where drugs were found on Haydarov, the amount of drugs found and the colour of his coat.
After his trial, Tohar was transferred some 400 kms (250 miles) from his home town to a labour camp near Karshi (Qarshi), where fellow Christians have been able to visit him twice. On each occasion, they were given 40 minutes to talk over the phone through a glass wall according to one church member. "Around twenty such phone conversations were going on at the same time, and they had to shout to hear each other," he said. Friends who have seen Tohar in jail report that his health is "normal," and state that "he is hoping that justice will happen and he will be released." (Forum 18)

SEND A CARD OF SUPPORT TO TOHAR
Tohar's friends have appealed for Christians around the world to pray that Tohar will be acquitted and released. They have also encouraged people to send cards and letters of support to him at:
Haydarov, Tohar,
UYa 64/49, otryad 13,
pos.Shaikh-Ali,
g.Karshi,
Kashkadarya Region,
180020 UZBEKISTAN.
Church in Chains advises that cards should contain a simple greeting and an assurance that you are praying for Tohar. DO NOT mention Church in Chains or criticise the Uzbek government.
Postage for a card or letter from Ireland to Uzbekistan costs 82c.

Share this