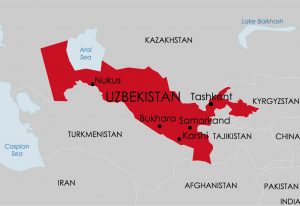 On Sunday 25 November, Uzbekistan's military took part in a raid on a Tashkent Baptist church and detained fourteen members for interrogation.
Some twenty plain-clothes officials, rising later to forty officials, raided a Sunday morning worship service in Yashnobod District in the capital, Tashkent. The Baptists had been meeting for about an hour when officials broke in to the building and began filming. They searched every part of the building and confiscated about 7,800 items of literature and DVDs, including all books and songbooks the church uses in meetings.
It was the first time that members of the military – the National Guard – had taken part in such a raid. Other participating agencies included the State Security Service secret police, the Justice Ministry and Yashnobod District Police. When the Baptists asked why the National Guard and secret police were involved, the raiders replied: "It is a special operation". A search warrant, which was not produced until about 4 pm, claimed: "Baptists are involved in unlawful propaganda".
Officials photographed and recorded details of each person at the meeting, including names, addresses and workplaces, and forced fourteen of them, including a 14-year-old boy, into a bus to be taken to Yashnobod Police Station. The Christians were kept outside in the cold while officials tried to force them to sign statements that they had participated in "an unauthorised meeting". When they refused, they were taken inside, their personal details were recorded, and they were interrogated for nine and a half hours, until 9 pm.
Baptists told Forum 18 News Service that the local police chief threatened them that "unless we officially register the church, the police will come every Sunday and disrupt the church service every time until we give up and stop our activity".
Very late in the evening of 25 November, police ordered employees of the District Fire Service and District Gas Service to cut off the heating system in the building where the church meets. Night temperatures have begun to fall below freezing, which is normal for Tashkent in November.
On 27 November, police visited the home of one of theBaptists for a "passport check" and demanded to see ownership documents of the home.
The raided congregation is part of the Baptist Council of Churches, which refuses on principle to register with the state. This is their right under Uzbekistan's legally binding international human rights obligations, which do not allow a state to demand that people have state permission to exercise their human rights.
"We explained [to the raiding officials] that on principle we do not want state registration, as it will mean state interference in our faith," church members told Forum 18. "We told them that we do not want to run our church as a state organisation."
Officials replied: "We as the state cannot adjust to you, you need to adjust to our laws."
UN report on Uzbekistan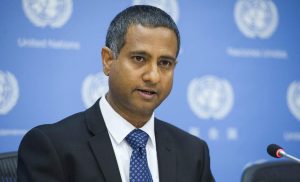 Following a visit to Uzbekistan in 2017, Dr Ahmed Shaheed (pictured), UN Special Rapporteur on Freedom of Religion or Belief, said that "freedom of religion or belief as a human right inherent to every human being is not recognised in law and in practice," and that this "poses a fundamental challenge for religious freedom in Uzbekistan". He recommended many reforms.
In 2018, the Uzbek government pledged to make changes and said it had "created a unique/original model to promote religious freedom". However, evidence of change was not immediately apparent.
Raids across Uzbekistan
Raids continue on Christian gatherings across Uzbekistan, including recent raids on a group of eight Christians in a home in Pap in the eastern Namangan Region on 19 November and a raid on a group of forty Protestants on retreat in Tashkent Region which resulted in their being fined in court on 30 October. During the raid, a woman and a five-year-old girl had to be hospitalised.
(Forum 18)
Share this