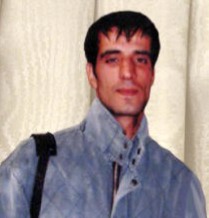 Tohar Haydarov was released from prison on 8 November, having served six years and ten months of his ten-year sentence. The previous day, a judge had ruled that he was eligible for parole.
Tohar, who was released two weeks after his 34th birthday, has returned to his home in Gulistan, eastern Uzbekistan. His fellow Baptists told Forum 18 News Service, "God heard the prayers of many Christians. We are thankful to everybody who prayed for him and sent letters to him while in prison." A former Muslim, Tohar is a Baptist from Tashkent who was arrested on false drug trafficking charges after he became a Christian.
A Baptist named Gleb Serin told Forum 18: "Tohar was amnestied for his good behaviour, and because he had already served more than half of his prison term". His brother Andrey Serin said, "Tohar was released quietly, which came as a surprise to him and us, and no one was there to meet him outside the prison when he was released."
Andrey Serin said that it is not known what conditions are being imposed on Tohar's release, as this has not yet been stated on his new internal passport. He added, "But he was told verbally when he was released that he should not get into trouble and return to prison. We will wait and see after he gets his passport."
A spokesman for the Council of Baptist Churches said Tohar's release did not signal a change in government policy but that the "attitude to Christians in Uzbekistan is as before. Therefore it is possible that Tohar will encounter problems. We continue praying for Tohar."
A spokesperson for Open Doors said Tohar's release was surprising since he had been denied amnesty when many other prisoners were granted it in May. The spokesperson added, "We need to continue our prayers. After six years in such difficult circumstances, he needs to be restored and re-establish his relationship with his loved ones. We know from other ex-prisoners that the process can be hard."
Background
When Tohar became a Christian, some of his relatives asked local police to help force him to return to Islam. The police arrested Tohar on 18 January 2010 on false drug trafficking charges and put physical pressure on him to renounce his faith. When he refused, they reportedly planted drugs in his pocket, took his keys, searched his home and found more drugs. Tohar was detained for three days at that point, during which it is believed he was beaten and forced to sign papers. When he appeared in court he could hardly walk and showed signs of having been beaten.
Fellow Baptists were not permitted to testify at Tohar's trial on 4 March 2010. On 5 March, Tohar's father (who lived with him) was found dead in their home. According to the official report, he died as a result of accidental electrocution.
Tohar was found guilty of "illegal sale of narcotic or psychotropic substances in large quantities", and on 9 March 2010 Guliston City Criminal Court sentenced him to ten years in prison. After his trial, Tohar was transferred to a labour camp near Karshi, 400 km from his home.
Following his arrest, several of Tohar's non-Christian neighbours gave written statements to the police in which they described him as a "conscientious, honest and orderly person".
Tohar's church friends have supported him since his arrest. They insist that the charges were fabricated to punish him for becoming a Christian and that there were major discrepancies in the prosecution case, including contradictions in the police records and the alleged witnesses' written statements (such as where drugs were found on Tohar, the amount of drugs found and the colour of his coat).
His friends have described him as "a man with a pure conscience and an honest Christian". They appealed twice, citing new evidence of innocence, but the Supreme Court upheld the conviction.
Uzbekistan
Uzbekistan is one of the harshest dictatorships in Central Asia and the state severely restricts religious freedom and freedom of expression, especially of members of religious communities that do not have state permission. Police regularly raid Christian worship meetings, courts often fine people who lead, host or attend services, and Bibles and song books are frequently confiscated and destroyed. Converts from Islam experience additional pressure. Find out more about Uzbekistan in the Church in Chains Uzbekistan Country Profile.
(Forum 18, Religious Liberty Prayer Bulletin, World Watch Monitor)
Share this