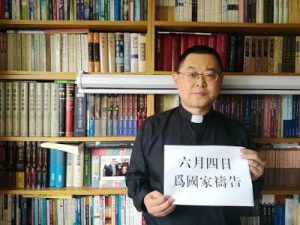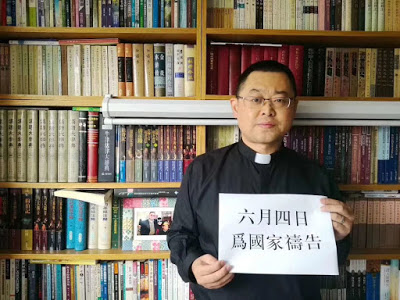 Police in Chengdu, Sichuan arrested 17 members of Early Rain Blessing Church who were attempting to hold a prayer service on 4 June to commemorate the victims of the 1989 Tiananmen Square Massacre.
Only one week after his last detention Pastor Wang Yi (pictured) was arrested again along with his wife, Jiang Rong, four preachers and 11 other church members when more than 20 officers broke into the church ahead of the evening prayer service.
During the arrest one preacher was pushed against the wall, choked, and slapped multiple times by police officers. It is unclear if some members of the group are still being held by the authorities. One report states that the couple has been released, but neither pastor Wang nor his wife could be contacted since the incident.
On 12 May, Early Blessing Church was raided as the congregation prepared to commemorate the anniversary of the devastating earthquake that struck Sichuan in 2008. The pastor along with two hundred church members were detained. On 28 May, twelve church members including Pastor Wang and a lawyer were detained when they visited Caojixiang Public Security Bureau to file a legal complaint about the church raid.
Early Rain Blessing Church
Early Rain Blessing Church is one of the most prominent house churches in China. It was founded in 2005 by Pastor Wang, who is an outspoken former civil rights lawyer. Like other politically sensitive figures, he is closely watched by police around the date of the commemoration and has been prevented from leading services on 4 June in the past.
Following the incident the church remained shut for the rest of the day with a large numbers of police officers keeping watch outside. A notice issued by the Qingyang ethnic and religious affairs office was put up on the church gate, saying the church had violated the newly revised regulations on Religious Affairs and had no right to organise religious activities.
Commemoration
For the past nine years the church has designated the time period between 12 May and 4 June as its "prayer month" to remember the natural and man-made disasters that occurred in China on those two dates.
12 May is the anniversary of the catastrophic earthquake that struck Sichuan in 2008 killing almost 90,000 people, while 4 June is the anniversary of the 1989 Tiananmen Square massacre when thousands of student protesters were killed by the army.
Gina Goh, a Regional Manager at International Christian Concern, said, "Chinese Christians continue to face a growing crackdown under President Xi Jinping, especially those who refuse to submit to the government's control. It's shameful that three decades after the infamous Tiananmen incident, Beijing is still fearful of its people, viewing people of faith and activists as the state's enemy."
(International Christian Concern/China Aid/South China Morning Post)
Share this