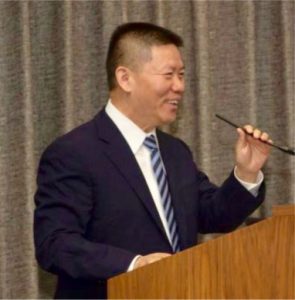 Update (10 December 2020): Six weeks after going into hiding, Bob Fu and his family returned home last weekend and are under police protection. The situation has been very stressful for Bob, Heidi and their three children (a 23-year-old son and daughters aged 21 and 15), especially for the younger daughter who had to be taken out of school by armed police. Protesters also turned up at the China Aid offices. The mayor of Midland, Patrick Payton, held a press conference to denounce the protesters, and threats were then made against him. Four protesters have been arrested for criminal trespass.
Dr Bob Fu, founder and president of Church in Chains partner organisation China Aid, is in hiding with his family following death threats from suspected members of the Chinese Communist Party.
Bob (pictured speaking at the Church in Chains conference in 2019) founded China Aid in 2002 in Midland, Texas, after fleeing China with his wife Heidi. Demonstrations began outside their house on 26 September 2020, with protesters accusing Bob of being a spy for the CCP, and harassment escalated to include bomb threats against the family.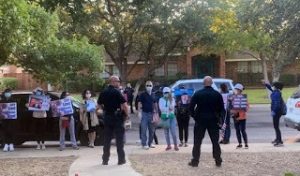 Protests continued on a daily basis for over a month, but neighbours put up "We Are Bob Fu" signs in their gardens in solidarity. Bob and his family are now under police protection while the FBI and CIA investigate the threats; his children are unable to continue their education and Heidi's mother has been receiving treatment at Midland Memorial Hospital, which Bob attributes to anxiety about the situation.
Bob's lawyers have filed a federal lawsuit against the New York-based Chinese billionaire behind the campaign, Guo Wengui (also known as Miles Guo), who has accused Bob and others of being spies for the Chinese Communist Party.
"Our family is experiencing real trauma"
In late October, Bob spoke with George W. Bush Institute Senior Editorial Advisor William McKenzie about his situation. Bob told him, "We are holding together by the grace of the Lord. Our family is experiencing real trauma and our children are scared. This morning, for example, we had another bomb threat from a chat site. This group has made Midland, Texas, their national focus. This is a surreal situation.
"This all started on September 26, while I was speaking in D.C. at a national prayer rally. The protesters came to our house, holding up New Federation of China flags, distributing flyers on our street, and chanting slogans that I am a fake pastor, a human smuggler, and a spy for the Chinese Communist Party.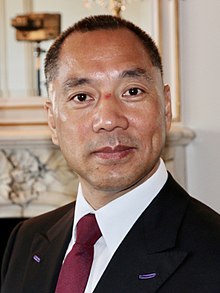 Asked who is behind the campaign, Bob explained, "Guo Wengei [pictured], a Chinese billionaire in New York. These are his diehard followers. They want nothing but to destroy. And this is a national campaign. They also have targeted Wu Jianmin, a democracy activist in Los Angeles who participated in Tiananmen Square. And they have gone after other prominent dissidents in Virginia, New York, Australia, Japan, New Zealand, Taiwan and other places. He told his followers to go and kill enemies in this global campaign. These protesters reportedly have been promised $500 a day for protesting and a bonus of $100 a day for more aggressive actions. And not just here, but elsewhere too."
Bob said that he had never met Guo Wengei and that the threats had come as a total shock. "The only thing I know is that who hates me and China Aid the most is the Chinese Communist Party," he said. "Intelligence officials have told me this, and I know this from experience. They hate me for our freedom work. But I never thought that here in West Texas, they would come to our door and start this threatening campaign. But they have put out booklets smearing me, accusing me of accepting money from the [Chinese Communist Party], and having luxury houses. All these are baseless accusations.
"Then, on October 5, I was speaking at a virtual UN event on religious freedom in China when my wife told me that busloads of people were outside, chanting slogans, and holding flags. This obviously is an order from Beijing, trying to silence our organization and dissidents. Since then, law enforcement felt the threat was credible enough that they evacuated our family to a secure location."
"Religious freedom absolutely has deteriorated"
Asked about the deterioration of religious freedom under Xi Jinping, Bob replied, "Religious freedom absolutely has deteriorated since three years ago. Since February 1, 2018, when the new regulation of religious affairs took effect, China Aid has documented how more than 10,000 churches in Henan province were banned. Two-thirds of all government-sanctioned churches have been totally shut down. And house churches have been dismantled and banned. This is the start of the new Cultural Revolution.
We also have seen children, students, medical professionals, and others explicitly banned from entering government-sanctioned church buildings. Millions of Christian children were forced to sign a Chinese-prepared form renouncing their faith. You have the government attempting to change religious doctrine so that it is compatible with socialist or communist ideology." 
He added, "The Chinese Communist Party, led by Xi Jinping, is trying to build a country modelled after North Korea. This will only get worse."
Read more about the persecution of Christians in China in the Church in Chains China Country Profile.
(China Aid, George W. Bush Institute, Midland Reporter-Telegram, Release International)
Share this