Church in Chains' new report "CHINA's CRACKDOWN ON CHRISTIANITY" was publicly launched on 16 September at Buswells Hotel in Dublin by Dr Bob Fu (a former Christian prisoner in China, founder of China Aid and one of the world's leading advocates for persecuted Christians in China).
Addressing an invited audience that included Maureen O'Sullivan TD (member of the Oireachtas Committee on Foreign Affairs), Dr Fu described the current crackdown as the worst since the Cultural Revolution. He said that the Chinese government is engaged in a war against religion, a war against children and a war against the rule of law. The war against religion is being conducted by the implementation of President Xi Jinping's "Sinicisation" policy, which has the objective of creating a Chinese version of every religion and making every religion conform and be subservient to the Chinese Communist Party. The war against children is seen in the strict prohibition against anyone under 18 attending church services or even being on church premises, while the war against the rule of law has resulted in the arrest and torture of many leading constitutional lawyers (including several Christian lawyers).
Over 1 million Christians persecuted
Dr Fu highlighted the report's finding that over 1 million Christians throughout China were affected by the crackdown in 2018 (this figure is based on the membership of churches which have suffered repression in one form or another) and also drew attention to the widespread use of torture, physical abuse and mental abuse which he said was used against 25,000 Christians.
Dr Fu emphasised that while the newly-published report focuses on the persecution of Christians, all other religions in China are also suffering persecution, including Tibetan Buddhists, Falun Gong and Uighur Muslims. He described the treatment of Uighur Muslims (over one million of whom are detained in "re-education" camps) as being "cultural genocide" and "ethnic cleansing".
Dr Fu concluded by drawing attention to the report's recommendations, which include a call to the Irish government to publicly express its concern about the persecution of Christians in China. He suggested that working in unity with other EU governments would be an effective way to proceed. Dr Fu warned that a choice needed to be made between an appeasement policy of saying nothing about persecution in China and holding true to the EU's stated values of promoting Freedom of Religion or Belief.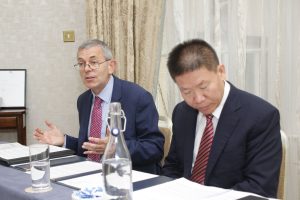 Speaking at the launch, David Turner (Director, Church in Chains) explained that the report covers the period February 2018 – January 2019 (the first year of implementation of China's new Regulations for Religious Affairs) and was compiled by analysing publicly available reports from Chinese and international sources. He said it was important to note that while the report documents 212 incidents of persecution of Christians during that period, it is almost certainly a gross understatement of the actual number of incidents due to the difficulty of obtaining verified local reports, as Christians in China are under increased surveillance and are at risk of arrest and imprisonment for circulating information about persecution incidents.
Report Highlights
Mr Turner highlighted the following points from the new report:
Official government-approved churches are being targeted in this latest crackdown as well as unregistered house churches.
The implementation of the Sinicisation policy is not just about the removal of crosses and other Christian symbols – it is also about their replacement by Communist Party slogans and pictures. There is a clear strategy to change or subvert religion rather than simply to repress it.
Implementation has been brutal, with assaults and torture.
Implementation has been all-pervasive. As well as dramatic raids on churches and removal of crosses, the report details Christians losing jobs, being evicted, having bank accounts frozen and being forced to leave their cities of residence.
He went on to announce that Church in Chains will be circulating the new report to the members of the Joint Oireachtas Committee on Foreign Affairs, requesting it to schedule a meeting of the Joint Committee to discuss the dramatic crackdown on religion in China – perhaps inviting presentations on the situation of Christians, Uighur Muslims and Tibetan Buddhists. We will encourage the committee to invite the Chinese ambassador to Ireland to attend and to respond to the serious situation outlined in this briefing document.
Share this