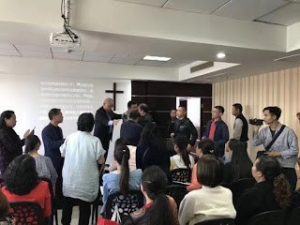 UPDATE: On 25 March China Aid reported that Chen Jianguo, Li Jinzhi, and Li Lin were released from the detention centre on 20 March, having completed their three-day detentions. Elder Zhang Chunlei, who had been given a 14-day administrative detention, was not released.
On 16 March, Chinese Communist Party (CCP) personnel from the local religious affairs bureau and public security department detained more than ten Christians from Guiyang Renai Reformed Church at the start of a three-day retreat, which the authorities described as "an illegal rally". Most were released after interrogation but four remain in custody.
Those detained included two women who had travelled from another city to visit the church – CCP officials released one of these women after interrogation at approximately 5 pm, but did not free any other Christians until later that evening. Police confiscated one detained Christian's money.
Church elder Zhang Chunlei and several other Christians went to the police station to negotiate with officers and Elder Zhang expressed his determination to remain inside the police station until officials released the last detained Christian. His companions remained outside, but Elder Zhang and three other members were handcuffed and transferred to Guiyang City Economic Development Zone Police Station where they were charged with "illegally hosting events under the name of an organisation" and sentenced to a 14-day administrative detention (Elder Zhang) and three-day detentions (the other three members).
Ongoing CCP persecution
Guiyang Renai Reformed Church is a small house church with fewer than one hundred members which has steadfastly refused to join the government-sanctioned Three-Self Patriotic Movement. CCP agents banned the church on 30 September 2018.
Nanming District Religious Affairs Bureau issued an "administrative penalty decision" alleging that Zhang Chunlei and others had established a religious venue in the Zhongtian Commerce Building, had organised religious events and had received offerings without being approved. The administrative penalty decision ordered the cancellation of all religious events and the removal of church equipment and signs.
After the church lost its venue members held Sunday services in restaurants and hotels, but on 12 May 2019 approximately eighty CCP agents from the religious affairs bureau and public security department raided a service in a hotel (pictured above), removed a cross and confiscated Elder Zhang's computer and other personal possessions.
The church moved to a new rental, but in July 2019 CCP authorities threatened the landlord and the church had to move again. The CCP raided the church three times within one year and sealed the church door twice.
Links with Chengdu Early Rain Covenant Church
In 2018, Elder Zhang signed "A joint statement by pastors: a declaration for the sake of the Christian faith" written by Pastor Wang Yi of Chengdu Early Rain Covenant Church (ERCC). The CCP detained around one hundred ERCC members in December 2018, including Pastor Wang, who is now serving a nine-year prison sentence. When Elder Zhang travelled to Chengdu to visit ERCC families, police forcibly took him from a member's home to the police station.
On another occasion, when Elder Zhang was visiting the family of ERCC's Elder Li Yingqiang officials seized him and handed him over to Guiyang National Security agents, who forced him to board a plane.
Elder Li issues appeal for prayer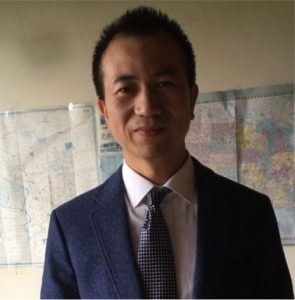 On 18 March 2021, ERCC's Elder Li (pictured) issued a prayer appeal for Guiyang Renai Reformed Church:
"At 5.00 pm today, I joined Pastor Huang Xiaoning from Guangzhou Bible Reformed Church to pray for Elder Zhang Chunlei, Brother Chen Jianguo, Sister Li Jinzhi, and Sister Li Lin from Guiyang Renai Reformed Church. They lost their freedom on Tuesday, more than 48 hours ago. We do not yet know in what name [charges], nor for how long these Brothers and Sisters will face the bondage.
"Recently, I agreed with Elder Chunlei, Pastor Xiaoning, and several other pastors as well as other believers in Christ that if any of us ever lost our freedom, we would find a way to pray with those outside our prisons at 5.00 pm. Then, Brothers and Sisters still free can have a "rain or shine" prayer meeting with those of us in bondage at that time.
"When we pray, we come to the heavenly Jerusalem—before the Father's throne of grace. Who can stop our heavenly meeting [gathering in spirit]?
"May Brothers and Sisters remember this time, 5.00 pm in China, the time we remember the members of the body in bondage – the time we come together to pray. May the Lord hear our cries, and may He keep our beloved Brothers and Sisters, so that they may have peace and joy in their trials. 
"Pray that the Lord would watch over Guiyang Renai Reformed Church and revitalise the gospel in Guizhou through the church's testimony."
(China Aid)
Share this