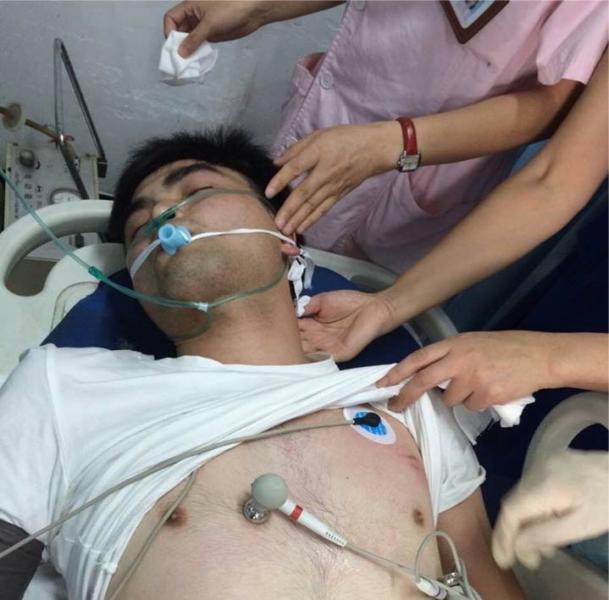 On Tuesday 28 July, Lan Tiansi (pictured) was one of several Christians injured by Chinese police when they attacked church members inside Taihu church building in Pingyang County in Zhejiang province.
Lan Tiansi was beaten severely and lost consciousness in the incident. He was taken to hospital where he is receiving treatment. The attack by the police is just the latest confrontation in the year-long campaign against Christianity in Zheijiang province, during which crosses have been removed from over 1,200 church buildings and over 35 church buildings have been demolished by the authorities.
Although it was claimed in March 2015 that the campaign had ended, it has in fact continued and even intensified. On the same day that Taihu church was attacked, 135 churches in Pingyang County received official notices containing an ultimatum to remove crosses from their buildings or face church demolition.
The incident at Taihu church is typical of many similar scenes which have been taking place at churches across Zheijiang province, where church members have sought to defend their buildings from police aiming to forcibly remove crosses (commonly positioned on top of the church building). While buildings belonging to large house-churches were the original target of the campaign, it has since widened to officially-approved Three-Self Patriotic Movement churches and also churches affiliated to the officially-approved Catholic Patriotic Association.
Catholic protest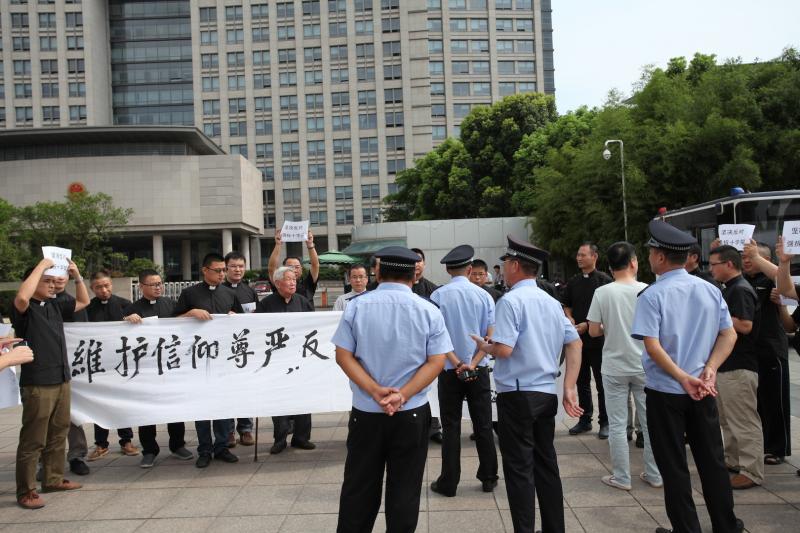 On Friday 24 July, Catholic Bishop Vincent Zhu Weifang was joined by 20 other priests in a protest outside government offices in Wenzhou city to stop the cross-removal campaign in Zhejiang province. The appearance of Bishop Zhu (89) who walks with a cane, leading the protest inspired many local Catholics. "They were moved to see the bishop leading the struggle to retain the symbol of their faith," a source said. A banner unfurled at the protest read: "Maintaining religious dignity and opposing the forced removal of crosses". The protest lasted about two hours and was closely observed by police who did not intervene to stop it.
Eight clergy from Zhejiang had earlier sought help from church officials in Beijing to lobby the government to stop the cross removal campaign. Bishop Zhu issued an open letter in August 2014, calling on Catholics to defend their rights and dignity in the face of the cross-removal campaign, though this was the first public protest by Catholics against the government campaign.
"Make and Carry the Cross"
In response to the latest incidents, Catholics and Protestants in Zhejiang Province have launched a cross making and wearing campaign. A Christian based in Wenzhou (known as "China's Jerusalem" because it is home to the country's largest Christian community) uploaded pictures on the social media platform Weibo showing people making crosses out of wood and painting them red in what appeared to be a small workshop.
Zhejiang churches urged Christians to hang crosses up at home and wear them. A message posted on Weibo along with the pictures said, "Let the cross take a root in everyone's heart".
On the same day, Father Chen Kaihua, who teaches at the Sichuan Catholic Seminary posted a similar message on Weibo calling on churches in other parts of the country to "join the relay in the safe and legal non-violent disobedience movement… tomorrow you will see crosses everywhere in Zhejiang".
Some house church leaders are encouraging their congregations to peacefully oppose the removals by placing homemade wooden crosses in their homes or on their cars. "Each time they take a cross down, we will put more up," one leader said. "We are even considering making flags and clothes with cross patterns. We will make the cross flourish throughout China."
Bob Fu of China Aid which advocates for religious freedom and the rule of law in China said, "This is the first time in modern church history of China a coalition between the Catholics and Protestant, between the official sanctioned church and the independent house church are united against religious suppression and human rights abuses. We pray a peaceful transformation toward true justice, rule of law and love in China will occur. The Chinese top political leaders should be held responsible for any bloodshed and violence. The international community should speak up and stand up with these brave freedom fighters."
Background
The cross-removal campaign in Zheijiang began in February 2014 when provincial officials, concerned that Christianity was growing too quickly, began to demolish any church buildings that violated local regulations. The campaign began after Zhejiang's Communist Party secretary, Xia Baolong, noticed the proliferation of big church buildings in the province, many topped with large and sometimes illuminated crosses. It came to international prominence when excavators and heavy machinery were used to completely demolish the building of Sanjiang church in Wenzhou city.
One church leader, whose name is being withheld to protect him from retaliation, said the authorities were attempting to transform Christianity "into a tool that serves the party… what they are doing feels like something from the Cultural Revolution era." He was referring to the period in the 1960s when churches and temples were ransacked and destroyed by Chairman Mao's Red Guards.
Many Christian activists believe President Xi Jinping has given at least tacit approval to the removals. Maya Wang, Asia researcher at Human Rights Watch, said the cross removal campaign is part of the Chinese government's unprecedented attack on civil society.
"The government has always been suspicious about religions – it tightly controls religious beliefs and expressions and Chinese people can only believe in five official religions. But it's important to point out that many of the churches with crosses removed by the government are official churches recognised by the government. The fact that these churches are now under renewed official scrutiny is a sign that authorities' already-low tolerance for religious activities has fallen to a new low under President Xi," Wang said.
(Asia News, China Aid, Guardian, Hong Kong Free Press, UCA News)
Share this