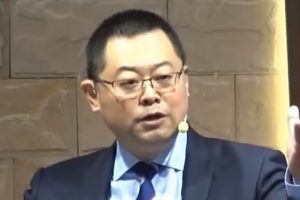 Concerns are growing over the health of Pastor Wang Yi of the banned Chengdu Early Rain Covenant Church, who is serving a nine-year prison sentence for "incitement to subvert state power" and "running an illegal business".
Dr Bob Fu, president and founder of China Aid, told Radio Free Asia in a recent interview, "It looks as if Pastor Wang Yi is being treated very badly in prison right now. It now appears that the state security police have been lying to Wang Yi's family and the church. Pastor Wang Yi is being kept in solitary confinement in [Chengdu's] Jintang Prison, with two other prisoners guarding him."
Dr Fu said the authorities had prevented family members and lawyers from visiting Pastor Wang since he was jailed, and now appear to be withholding medical treatment too, as well as feeding him "mouldy rice".
"This is clearly because the authorities want his medical deterioration to continue," Dr Fu explained. He said the authorities could be intentionally destroying Pastor Wang's health, citing the death in prison custody of Nobel peace laureate Liu Xiaobo in 2017.
Overseas news websites have reported that medical services in Jintang Prison are limited to those provided by other prisoners, and that drugs given to inmates are expired pharmaceuticals left over from provincial hospitals.
Early Rain Covenant Church (ERCC) is located in Chengdu, capital of China's southwest Sichuan province, and is one of the most prominent unregistered house churches in China. It has suffered severe persecution since a crackdown in December 2018 in which over 150 members were detained.
Another ERCC leader, elder Qin Defu, has been imprisoned as well as Pastor Wang, and in the absence of these two leaders church member Wu Wuqing, known as Minister Wu, is helping to pastor the church. Earlier this month he was locked in his apartment when police chained the door on 4 June in the latest bid to make him leave Chengdu and end his ministry. A 24-hour guard was placed outside to prevent him leaving and visitors were refused access.
Police seize ERCC mourners after memorial service
Meanwhile, on 12 June, police detained ten ERCC members, including mourners, following a memorial service they had held for the father of church member Zhu Lei.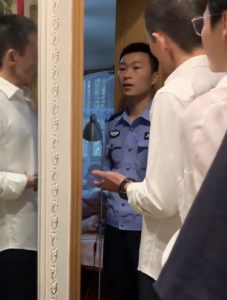 The memorial service was held in the morning, and in the afternoon Elder Li Yingqiang, who had officiated at the service, and several other ERCC members visited Zhu Lei to comfort her and her family. At approximately 5 pm, seven police officers from Guangrong Police Station seized all ten Christians present, including Zhu Lei and her husband Chen Zhibin, and brought them to the station for interrogation before releasing them later that day. The image is a video screenshot of ERCC members attempting to negotiate with police.
A local Christian surnamed Zhou told Radio Free Asia, "The family members of a member of the church were having a memorial service. After Li Yingqiang and some other brothers and sisters arrived at this member's home, the local police officers knocked on the door and forcibly took these people to the police station. They were eventually brought back to their homes a few hours later by police from the stations near their homes."
Another Christian, named Qiu Xuan, reported that police had not produced a warrant or any form of documentation, saying they were allowed to issue summonses at will.
Read Wang Yi's Prisoner Profile.
(China Aid, Radio Free Asia)
Share this