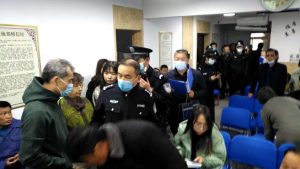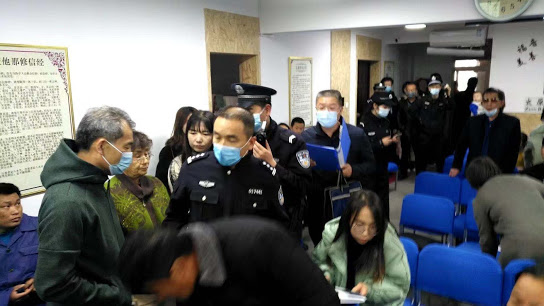 At approximately 9 am on Sunday 15 November, armed military police accompanied by officials from the public security bureau, ethnic and religious affairs bureau, ministry of civil affairs and the local police station raided a worship service at Xuncheng Christian House Church in Taiyuan, capital of Shanxi province. They took away seven members for interrogation, including the minister, and detained them until late evening.
Xuncheng Church was planted in 2008 by Early Rain Covenant Church (ERCC), a large unregistered house church located in Chengdu in the neighbouring Sichuan state that has experienced heavy persecution. Xuncheng's minister An Yankui is a graduate of ERCC's Western China Bible School and has written numerous articles about Pastor Wang Yi, the imprisoned pastor of ERCC.
As soon as the raid began, the public security commander went straight to the pulpit and confiscated the service leader's mobile phone. The commander then requested that the preacher, Minister An, engage with them, to which Minister An responded, "We are in the middle of our worship; please wait until our service is over." The officials complied.
After the service, the commander and staff from the ethnic and religious affairs bureau questioned Minister An about his qualifications as a preacher, asking whether his credentials were approved by the state and whether the gathering was registered with the government. Unsatisfied by his answers, they demanded that he go with them.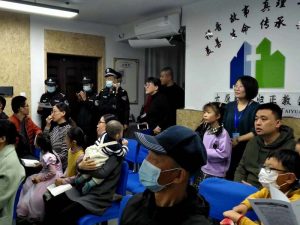 The congregation asked to see legal documents for the officials' actions, but they only showed a disbandment notice from the religious affairs bureau, not an arrest warrant or a summons letter. The authorities posted the disbandment notice on the church door and prevented people from recording the incident, confiscating members' mobile phones. They also recorded everyone's personal information and confiscated Bibles, hymn books and choir robes.
China Aid reported that officers said they were stopping the service because congregants were not wearing masks and that when Minister An asked to speak with police after the service they refused and an officer restrained him in a strangle hold, while others assaulted him.
Police brought Minister An, his wife and five other Christians to the police station for interrogation. They tried to mislead the Christians into disclosing unfavourable information about their church and asked them to provide the passwords to their mobile phones. When the Christians resisted, they were handcuffed and transported to another police facility.
At 3 pm, the Christians were told to change into prison uniforms and were handcuffed in a detention room. At 6 pm they were allowed to change back into their own clothes and each was asked to provide a statement. They were released at about 10 pm.
Members of the congregation waited at the church premises throughout the day, hoping for an update on the seven Christians, but did not hear any news until they were released.
Harassment of Elder Li continues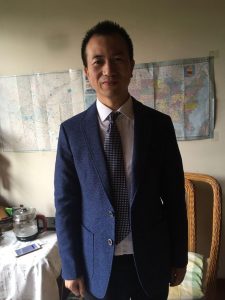 Persecution of Elder Li Yingqiang of ERCC has escalated recently, with the authorities disconnecting electricity, water, natural gas and internet from the apartment he is renting with his wife Zhang Xinyue and their two children.
He posted on his Facebook page: "The natural gas was cut off at our family's residence in Leshan the evening of November 11. At approximately 9 am, November 12, the internet, power, and water were cut off, one after another."
Elder Li has been harassed relentlessly by the authorities since December 2018, when he was detained as part of a crackdown on ERCC. He spent eight months in criminal detention and in August 2019 was released on a year's probation to be spent in his home town in Hubei province.
The family returned to Chengdu in September 2020 but state security officials placed them under 24-hour surveillance and resumed persecution of other ERCC members, so on 25 October the family moved to Leshan, 180 km away.
On 6 November Elder Li was informed that Leshan police had ordered his landlords to rescind his lease, in an attempt to force the family to move again.
Elder Li has asked fellow Christians to join him in praying for him and his family: "We pray that we depend on God when we lack, because apart from Him we have no good thing. We pray God makes us put our trust in Him at this difficult time. We pray the Holy Spirit fills us to respond to our situation with gentleness and respect."
ERCC members persecuted
Almost two years after the crackdown on ERCC, police continue to persecute church members. On 14 November, police visited the home of a small group leader named Wu Wuqing, confiscated his and his wife's mobile phones and laptop and took him away at about 10 pm. He was detained at Longquanyi Police Station until 5 pm next day. On 13 November, he had preached at an evangelical event called "The Good News in Grace". Before becoming a Christian, Wu Wuqing had a senior position at a business in Guangdong but he now attends Western China Bible School and works full time at the church.
Another member, Xuewei Jia, has had his power cut off by the authorities for more than twenty days, meaning that he eats cold food and lights candles to see at night. He goes to his friend's home to charge his phone and to a public bathing facility to shower.
Other members report police harassing and threatening to detain them, and police have raided Western China Bible School numerous times and have brought several students to the police station for interrogation.
(China Aid, International Christian Concern)
Share this