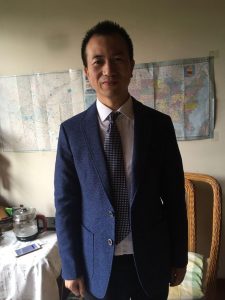 Early on the morning of Sunday 11 October several police officers forced their way into the apartment of Elder Li Yingqiang of Early Rain Covenant Church (ERCC) in Chengdu, capital of Sichuan province. They tried to kick in the front door until Elder Li agreed to open it and took him away to the police station for questioning while an officer entered the apartment and threatened his wife Zhang Xinyue and shouted at their 8-year-old daughter and 5-year-old son.
Police questioning Elder Li threatened to take action relating to his children if he did not cooperate or if he posted about his detention on the Internet. An officer told him, "Early Rain Covenant Church is banned by Chengdu authorities, and we will thoroughly enforce this ban and will not give your church any room to survive. You are not welcome in Chengdu, and as long as you are here, we will make sure you can't do anything or see anyone."
He was detained until noon (the photo shows him after returning home from the police station) and was told that in future he would be taken from his home every week, clearly a strategy to prevent ERCC from holding online worship. He later wrote on Facebook, "It was clear to me that their main task today was to restrict me from attending the church's Sunday worship service. The questions were an excuse to kill time."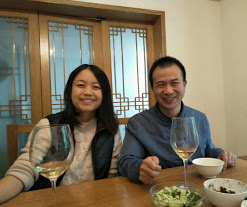 Elder Li was detained in December 2018 during a crackdown on ERCC that included the arrest of Pastor Wang Yi, now serving a nine-year prison sentence, and Elder Qin Defu, serving a four-year sentence. Elder Li spent eight months in criminal detention, during which his wife Zhang Xinyue had no idea where he was. (She is pictured with him on their wedding anniversary on 10 October.) In August 2019 he was released on a year's probation to be spent in his home town in Hubei province. The family left Chengdu and travelled to Hubei.
ERCC is a large unregistered house church that saw over 150 members detained in December 2018 and held for various periods. While many were quickly released, 54 were held for days or months, and others were harassed and detained for various periods in the months that followed. Many released members lost their jobs, were evicted or had their bank accounts frozen, and some, like Elder Li, were sent back to their home towns in an apparent attempt to weaken the church leadership.
Return to Chengdu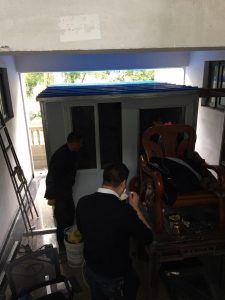 In September 2020, Elder Li and his family returned to Chengdu after his probation ended, but the authorities have harassed them since they returned and State Security officials have placed them under 24-hour surveillance and follow them whenever they leave their apartment. To facilitate monitoring the officials have built a guard post (pictured) in the corridor of the apartment block, including a bed and living and eating areas, complete with a large flowerpot and plants.
On the evening of 27 September, six officials from the Chengdu Public Security Bureau came to Elder Li's apartment and repeatedly told him, "You are not welcome in Chengdu! The Chengdu people do not welcome you!"
Elder Li reported, "They informed us that they may take a number of measures including but not limited to strictly surveilling us, following us, 'legally' making it uncomfortable for us to live here, 'legally' depriving us of custody of our children, and so forth. I told them that we are simply believers in Christ who want to bless the city of Chengdu. I said that we obey the authorities – even if they break the law, we will still submit to them and are willing to pay the price for our faith."
The family received a separate visit that day from eight officials from the Chengdu Qingyang District Public Security Bureau, the Bureau of Ethnic and Religious Affairs, the Bureau of Education, and the Subdistrict Office who told them that Zhang Xinyue had violated the compulsory education law when she refused to send their children to public school while her husband was imprisoned. The officials told them they must send their children to public school now, but the couple replied that they would not allow their children to receive an atheist education, to which the authorities responded by threatening to remove the children from their guardianship.
The children have found it particularly upsetting that officials follow the family every time they go to the local park. On 7 October, police followed them when they went to meet friends from ERCC at the park, took photos and videos and then brought them all, including the children, to the police station. Since then, police have instructed taxi drivers not to drive the family anywhere.
In an update on the Pray for Early Rain Covenant Church Facebook page, Elder Li wrote, "We came back to Chengdu because we wanted to share in the sufferings of our brothers and sisters and also to share in grace with them. May our gracious Lord be with us! May he keep our hearts so that we might always trust in him, praise him, and testify of him."
"My duty is to take care of this flock"
Explaining his motivation for returning to Chengdu, Elder Li wrote on Facebook, "We returned to Chengdu to pastor the church. God has put many of his people in this church, and our pastor has been sent to "prison seminary" to study. As an elder and pastoral assistant in this church, it is only right that I return to Chengdu to shepherd this flock. In order to shepherd this flock, I must be with them. Wherever the sheep are, there the shepherd must be. If the sheep are in the wilderness, then the shepherd must also be in the wilderness. If the sheep are in a storm, then the shepherd cannot lie down. When the sheep are facing wolves and tigers and leopards, it is the duty of the shepherd to protect them.
"My duty is to take care of this flock according to the will of God, "not under compulsion, but willingly, as God would have you; not for shameful gain, but eagerly; not domineering over those in your charge, but being an example to the flock." (1 Peter 5:2-3) Unless God removes this burden, I cannot act contrary to his will and forsake my responsibilities for the sake of bettering my own personal circumstances… Pray that the Lord would give me faith and grace to enjoy heavenly freedom in the midst of this lack of freedom, heavenly peace in the midst of this turmoil, and heavenly joy in the midst of these frequent tears and pain."
ERCC home-group leader detained
Chengdu police appeared to ease up on monitoring ERCC members after officials closed the church in August 2020, but with Elder Li's return to Chengdu they have intensified tracking of church members.
Police recently began tracking home-group leader Jia Xuewei again, having kept him under surveillance for a year from December 2018, and have been threatening him and forbidding him to participate in church activities. On the same morning that Elder Li was detained, Sunday 11 October, the authorities cut off Jia's electricity and when he went to the door to check what was happening he was met by four men who took him to the police station. He was interrogated about ERCC's recent retreat and the worship that was about to take place, and was not allowed home until 8 pm.
(China Aid, Church Leaders, International Christian Concern, Pray for Early Rain Covenant Church [Facebook])
Share this