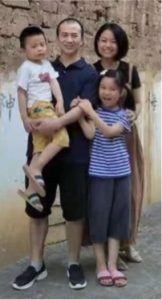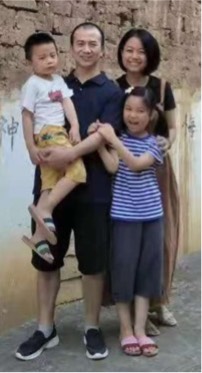 On 18 August, elder Li Yingqiang from Early Rain Covenant Church in Sichuan province was released on bail and sent back to his home town in Hubei province with his wife and children.
Following eight months' imprisonment, Elder Li has lost weight but is healthy and reported to be in high spirits, posting on Facebook following his release, "God is true and living! praise our Lord!"
While waiting for trial, he must report regularly at the local police station and is deprived of freedom of movement.
Elder Li was detained in December 2018 during a crackdown on Early Rain Covenant Church, a large unregistered house church with more than eight hundred members in Chengdu, capital of China's southwest Sichuan province.
In early December, police detained over 150 members, including Pastor Wang Yi, and shut down the church. Li Yingqiang and another elder, Qin Derfu, were falsely accused of "picking quarrels and stirring up trouble" and "running an illegal business".
While many church members were quickly released, 54 were held for days or months, and others have been harassed and detained for various periods in the intervening months. Many released members have lost jobs, been evicted or had their bank accounts frozen, and some have been sent back to their home towns in an apparent attempt to weaken the church leadership.
Pastor Wang Yi, elder Qin Derfu and church member Gou Zhongcan remain in criminal detention, deprived of the right to meet with their lawyers or families.
Family harrassed
During Elder Li's imprisonment, his wife Zhang Xinyue heard no news of him and did not know where he was being held. At the same time, the government was attempting to force her to send their home-schooled eight-year-old daughter to public school, threatening Zhang with arrest if she refused. While the attempt failed in the end, the child was traumatised and Zhang was reportedly worn out by the process.
In a social media message following her husband's release, she wrote, "Thank you my friends, family, brothers and sisters! Thank you for walking with my family through different means in the past eight months. May God greatly bless you. I love you all!"
Letters of encouragement
Following the mass arrests of Early Rain Church members in December, Li Yingqiang wrote letters to encourage members to stand strong in their faith.
"We will never change our statement of faith shared publicly earlier and our push for house churches to gather in public; we will also not change our stance insisting on the separation of church and state," he wrote. "We will neither register with the Religious Affairs Bureau, nor join the state-sanctioned churches."
Elder Li also wrote, "This round of crackdown is unusual as it seems that the authorities want to close the church down for good. Our social media channel accounts such as WeChat were not closed in previous rounds and they have taken a large number of our members into custody this time. The scale was unprecedented. Even if we are down to our last five, worship and gatherings will still go on because our faith is real. Persecution is a price worth paying for the Lord. We would rather live through it than hide our faith and we hope more Chinese churches will speak up and stand with us."
(China Aid/Facebook [Bob Fu; Early Rain Covenant Church]/International Christian Concern)
Share this