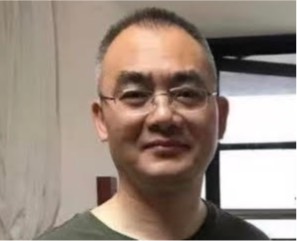 Chinese authorities locked Minister Wu Wuqing of Chengdu Early Rain Covenant Church (ERCC), Sichuan province, into his apartment and prevented church members from visiting in the latest bid to make him leave Chengdu and end his ministry.
Minister Wu lives with his wife Xiong Meifang and their two children in Damian Town in Chengdu City's Longquanyi District. He has suffered constant persecution, including repeated detention, because of his leadership in ERCC, and Chinese Communist Party (CCP) authorities were already monitoring the entrance passageway to his apartment building before police chained his door and locked him in on 4 June. A 24-hour guard was placed outside to prevent him leaving.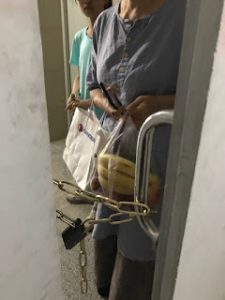 For the first couple of days of Minister Wu's imprisonment, CCP agents unlocked the chain to let visiting Christians enter, but from 8 June they refused to allow anyone in and local Christians had to drop off water, vegetables, fruit and other food at the door.
A church member travelled with her children to Minister Wu's home on 8 June but CCP officials stopped them at the door and said that their superior had issued a new order prohibiting anyone from visiting Minister Wu. Later, officials barred another member and her child from entering, but she "visited" Minister Wu and Xiong Meifang over the door chain.
Minister Wu repeatedly phoned the police from 4 June to seek help with the situation, but none was forthcoming. Xiong Meifang told several police officers who came to the apartment that human laws originated in the Ten Commandments that God gave Moses and they left and did not process their report.
She told church members, "Our Heavenly Father locked the door, and He will unlock it when the time comes. We will pray for the police and CCP authorities every day. May the Lord gain their souls."
Early Rain Covenant Church published the following prayer request on 8 June: "Brothers and Sisters, please continue to lift Minister Wu and his family in prayer. Pray that the Lord helps Minister Wu and his family stay in the city like a nail in wood. Their gentleness and kindness testify to the grand power of the gospel. Their steadfastness testifies to the justice and holiness of Christ. May the Lord strengthen them and protect them from the Evil One's harm."
It is not clear whether Minister Wu remains under house arrest or has been released. On 18 June, Radio Free Asia reported that local Christian Qiu Xuan had said, "Police placed Wu Wuqing under house arrest for two weeks, locking the fire exit and trapping his [family] inside." On 11 June, however, China Aid's Special Reporter Yu Bing suggested that house arrest could continue through June, writing: "This persecution will not likely end until July 1 – the 100th anniversary of the CCP."
Ongoing persecution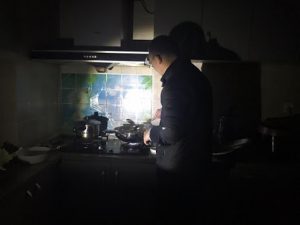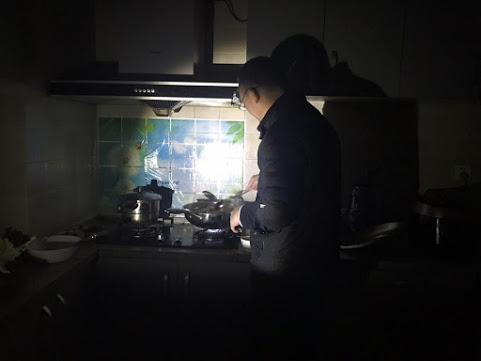 CCP officials have continually persecuted Minister Wu and his family in an attempt to pressurise them to give up their faith and church ministry, using various approaches including cutting off their water, electricity and gas, puncturing Minister Wu's car tyres and frequently summoning him to the police station for interrogation – the photo shows him cooking in the dark last Christmas when his electricity was cut off.
ERCC is one of the most prominent unregistered house churches in China and has been severely persecuted since a crackdown in December 2018 when police detained over 150 members. Many were released quickly but others were held for longer periods and some lost their jobs, were evicted or were sent away from Chengdu to their home towns. The authorities closed the church premises, forcing members to meet in small groups. Pastor Wang Yi and Elder Qin Defu remain in prison, serving sentences of nine and four years respectively, and concerns are growing for Pastor Wang, who is reportedly being badly treated in solitary confinement.
Police seize visiting Christian        
On 11 June, Minister Wu's two children needed to leave home at 7.30 am, but the guard refused to open the lock and said the children could not leave until 8 am. Minister Wu called the police and the mayor's office for help, but by the following morning had heard nothing.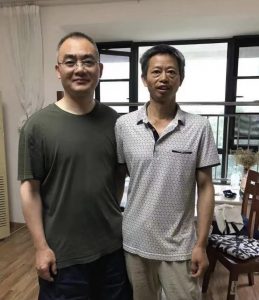 ERCC member Hao Guiru, known as Brother Hao, decided to visit Minister Wu to encourage him and to ask the guards why they were detaining the family. (He is pictured with Minister Wu.) Brother Hao arrived at the apartment at 8 am on 12 June and surprised Minister Wu and Xiong Meifang by opening the lock with a nutcracker. They greeted him with hugs, ate breakfast with him and prayed and sang hymns together.
When Brother Hao prepared to leave, he found that the door had been locked again and the guard refused to open the lock, stating that he had to wait for his supervisor's response. Brother Hao continued to sing hymns with the family while he waited.
Police officers knocked on the door twice between 8 am and 9 am and asked Minister Wu to hand over Brother Hao, but Minister Wu replied, "I called 110 for help yesterday, but no one came… I did not ask you for help today, but you are here. I will not open the door."
The police officers threatened, "If you don't open the door, we will cut off your water and power," but Minister Wu replied, "You are police officers. Do what you should do."
Officers then kicked the door, breaking the handle, broke into the apartment and seized Brother Hao and took him away. Minister Wu and his wife commented, "Brother Hao Guiru was ready. We do not know what will happen to him at the police station, but we know God will remember and bless him because he paid a price to love his Brother and Sister in Christ. Thank you, God."
Police released Brother Hao at 6 pm that evening and he posted on WeChat: "Brothers and Sisters, peace be with you in Jesus Christ. I have arrived home safely. Thanks to God's grace and protection. When in the police station, I completed a basic report. Afterward, I simply sat in the office. I am safe… Thank you for your prayers."
Fired, evicted, beaten up
Brother Hao worked at Yonghui Supermarket until the crackdown on ERCC in December 2018, when he was fired because of his Christian belief. A single man in his fifties, he is known to live frugally but to give generously to his brothers and sisters in Christ. After the crackdown, when many church members were fearful of gathering, with no place to meet for worship, Brother Hao rented a bigger apartment and phoned the Christians to invite them to gather at his home for Sunday worship. He prepared a feast for them each Sunday and also brought them out for restaurant meals to encourage them to gather with other Christians.
CCP officials forced Brother Hao to move four times after the crackdown and police officers not only threatened his landlord into terminating his lease but also refused to allow him to live at any other Christian's home. When they learned that he and another Christian planned to rent together, police prevented them from settling and community workers beat up the two Christian men while police officers stood by and watched. They warned him that they would not even allow him to sleep on the street.
China Aid reports that despite being beaten and having his utilities cut off, Brother Hao refuses to leave ERCC and that the persecutions have only made him love his church even more.
(China Aid, Pray for Early Rain Covenant Church Facebook Page, Radio Free Asia)
Share this