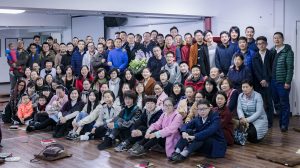 Six members of Early Rain Covenant Church were taken from their homes during an online service on Easter Sunday and were briefly detained.
On 12 April, Early Rain Covenant Church (ERCC) in Chengdu, capital of Sichuan province, was conducting an online Easter Sunday service when Public Security Bureau officers arrived at the homes of at least six members and took them away. They were briefly detained and have been released.
ERCC is one of China's most prominent unregistered house churches and has endured severe persecution since December 2018, when police detained over 150 members and closed the church premises. Church members (pictured) meet in small home groups but police harassment continues and church pastor Wang Yi and elder Qin Defu are in prison, serving sentences of nine and four years respectively.
A member of ERCC told International Christian Concern, "At that time I was also in the Zoom call, but there was a long period of time where I did not hear a thing. I thought it's the network connection issue at first, but I soon heard a quarrel erupt. Our co-worker Wang Jun was questioning some people, 'Who are you to do this?'"
She said that five leaders as well as Wang Jun were taken away (Guo Haigang, Wu Wuqing, Jia Xuewei, Zhang Jianqing and Zhang Xudong) and that some of them received phone calls that the police were coming for them. One member had his electricity cut off, but it was restored that afternoon.
Police warned Zhang Jiangqing at his house, saying: "Don't participate in already banned activities anymore! Don't listen to Pastor [Wang]'s sermons anymore! If you do this again, we will deal with it seriously and take you away!"
A supporter of ERCC said on Twitter, "Since 8.30 am, some security officials have entered these Christian families' homes and pretended to be chatting with them casually. At 9.30 am, the worship began, and they were also invited to participate. Once they realised that the sermon was from ERCC's imprisoned pastor Wang Yi, they immediately shut it down."
A church member told Radio Free Asia, "We haven't met in person since the raid of 9 December 2018, and also because of the epidemic. We have been holding our services online… The brothers and sisters of our church were taken away from their homes. Several people I knew were taken to the police station, where they took statements from them, then released."
A post on the Facebook page Pray for Early Rain Covenant Church states, "A number of Early Rain Covenant Church members were visited by police at their homes this Easter morning and many of them taken to the police station for interrogation. After being threatened and ordered to stop meeting together, they were released. Pray that God would continue to protect their church and grant them courage and resolve in the face of persecution."
The detentions took place after church member Chen Yan announced that she was going to file a lawsuit against the authorities for unlawful harassment and surveillance against her and her husband Xiao Luobiao for more than a year. She wrote of her experience with security officials and her intention to sue in a series of blog posts published online in the week before Easter.
Church building demolished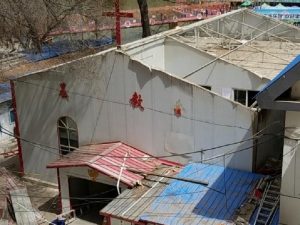 A church building (pictured) in Xining city, capital of Qinghai province, was demolished on Easter Sunday. Donghu Church in Xining's Chengxi District is a member of the state-recognised Three Self Patriotic Movement. It was approved by the authorities in 2003 and is the oldest and largest church in the district, with more than three hundred members.
At 8.30 am on 12 April, a team from the Chengxi District Urban Construction Bureau arrived at the church building and spent about two hours demolishing it, claiming the church was illegal and citing "safety concerns". Li Zhennan, director of the Xining City Religious Affairs Bureau and Wang Xiao, secretary of the Xining Municipal Committee of the Chinese Communist Party, oversaw the demolition.
Over the past few years, officials made several attempts to close the church but did not follow through after members protested.
On 19 December 2017, Xining fire department ordered the closure of the church on the premise that it posed a "hidden danger", but the order was suspended after dozens of church members protested.Church members reported that the fire department sealed the church door in early December but said that on 15 and 22 December more than two hundred members were able to worship together after entering through a window.
On Christmas Day 2019, local authorities cut off the electricity supply during a Christmas morning service after the fire department claimed that the building failed to meet fire safety requirements – China Aid points out that the Chinese government often uses such claims to force religious organisations to close. The congregation worshipped in darkness for two weeks but then received a formal notice requesting immediate closure and stating that the building would be demolished on 2 January 2020.
(China Aid/Church Leaders/International Christian Concern/Radio Free Asia)
Share this