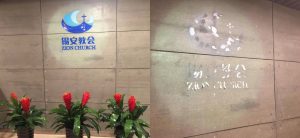 On Sunday 9 September, Chinese authorities shut down Zion Church, one of Beijing's largest unregistered churches. Over sixty government officials arrived in dozens of vehicles including police cars, ambulances and other government-owned cars at the church premises following the last afternoon Sunday service. Officials stormed the building and proceeded to declare the church's meetings illegal, sealing off the property. A sign at the entrance of Zion Church was removed, as can be seen in the above photograph. When Senior Pastor Jin Mingri returned to the church building to retrieve possessions, he was taken into custody and held for several hours.
In April, city authorities had ordered the church to install 24 CCTV cameras on its premises for "security reasons", which it refused to do. Subsequent to the church's refusal, state security officials and police had been harassing churchgoers by contacting them at home and even at their workplaces asking them to promise not to go to church anymore.
Walking worshippers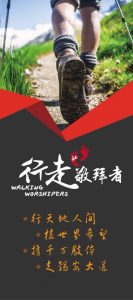 As it is unlikely that Zion Church will find another suitable venue, the church leadership has announced that from now it will hold services outdoors. On Sunday 16 September church members walked the streets in small groups, listening to a downloaded sermon on their mobile phones. According to the church Facebook page, a senior member who used to attend the daily morning prayer has been seen kneeling on the ground of the church car park praying since the church closure.
In a letter Pastor Jin published on 15 September, he boldly declared that while the authorities can close their church building, they cannot destroy the church. "By the grace of the Lord, let us walk in the streets and lanes of Beijing, and walk into the heaven on earth!"  
Pastor Jin urged all members to contact their small group leaders or local pastors to find out how their church will continue to function without its building. He also encouraged everyone in his congregation to document their current experiences and share words, pictures and videos with the wider church family, saying: "We are a family in Christ… In everyone's prayers, tears, actions, anxiety, joy and greetings, we understand this is the love in Christ, the love that the world does not have. Living in such love, all external pressures, persecutions, and challenges seem small. Let us love each other, and the world will recognise us as the disciples of Christ."
Internet restrictions and church closures and demolitions
On 10 September the Chinese government published new draft guidelines to deal with the "chaotic and illegal promotion of religion" on the internet. The South China Morning Post reported that from now on, "No organisations or individuals are allowed to live-stream or broadcast religious activities – including praying, burning incense, worshipping or receiving baptism – online in the form of text, photo, audio or video." In order to publish any religious material online, organisations will have to apply for a licence from provincial religious affairs departments in future. The internet censorship follows a government ban on the online sale of Bibles which started in April.
The religious clamp down is continuing nationwide with ongoing church closures and demolitions. Every week new videos are posted showing churches being shut down by the authorities, particularly in China's central Henan province. Most of the videos are being shared by pastors and organisations based abroad who are not affected by the government's censorship. Several images and videos show crosses being removed from church buildings with cranes or being set on fire, while others show notices ordering church closures and even a church door being welded shut by officials.
Church in Chains partner China Aid is calling on the international community to intervene on behalf of Chinese Christians and help to expose the ongoing human rights and religious freedom abuses.
(China Aid/Pray for Beijing Zion Church [Facebook]/South China Morning Post/World Watch Monitor)
Share this