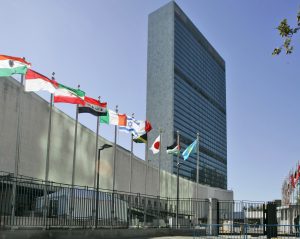 Ireland, in a joint statement with 22 other countries at the United Nations, has expressed concern about mass detentions and restrictions on religious observance in Xinjiang province – homeland of the mainly Muslim Uighur people – and the need to respect freedom of religion or belief across the whole of China.
The 23 countries (Albania, Australia, Austria, Belgium, Canada, Denmark, Estonia, Finland, France, Germany, Iceland, Ireland, Japan, Latvia, Liechtenstein, Lithuania, Luxembourg, the Netherlands, New Zealand, Norway, Sweden, United States of America and the United Kingdom) called on the Chinese government "to uphold its national laws and international obligations and commitments to respect human rights, including freedom of religion or belief, in Xinjiang and across China".
The statement was read at the United Nations General Assembly in New York on 29 October by the UK Ambassador to the UN, Karen Pierce. In July 2019, Ireland was one of 22 UN member states that co-signed a letter to the United Nations Human Rights Council in Geneva expressing similar concerns.
Chinese Reaction
Zhang Jun, permanent representative of China to the UN, reacted strongly to the latest statement, stating: "China firmly opposes and rejects it." He described the comments on Xinjiang as "baseless" and "gross interference in China's internal affairs and a deliberate provocation of confrontation".
China also widely publicised a counter-statement which was issued jointly by 54 countries including Belarus, Bolivia, Cuba, Democratic Republic of the Congo, Egypt, Ethiopia, Kyrgyzstan, Myanmar, Nicaragua, Pakistan, Russia and Serbia. Many of these countries have benefitted from widescale Chinese investment in infrastructure development through its Belt and Road initiative. The counter-statement praised the Chinese government's actions in Xinjiang and stated: "We express our firm opposition to relevant countries' practice of politicising human rights issues, by naming and shaming, and publicly exerting pressures on other countries."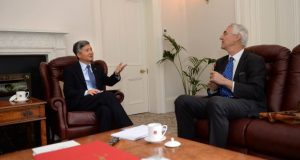 In a recent interview with the Irish Times to mark 40 years of diplomatic relations between Ireland and China, Chinese Ambassador to Ireland He Xiangdong rejected descriptions of  the detention centres in Xinjiang (where over a million Uighur people are believed to be interned) as camps, stating: "it will remind people of the camps at the time of Nazi Germany". Instead, he preferred to describe them as "educational and vocational training centres. The purpose of it [detention] is to tackle the issue of religious extremism and radicalism."
Church in Chains welcomes Irish involvement
David Turner (Director, Church in Chains) has welcomed Ireland's participation in the international statement, saying: "We are encouraged that the Irish government has again joined other democratic countries in supporting the call for China to respect its international commitment to respecting human rights including freedom of religion across China.
"Concerted and consistent international action is needed in these days of great repression in China as President Xi's Sinicisation policy is resulting in a "war on religion" as described by Dr Bob Fu at our recent conference and detailed in our recent report "CHINA's CRACKDOWN ON CHRISTIANITY". We reiterate our call to the Chinese government to protect the right of all people in China to freedom of thought, conscience and religion, in accordance with Article 18 of the Universal Declaration of Human Rights."
(China Daily/CSW/Irish Times/UK Government)
Share this