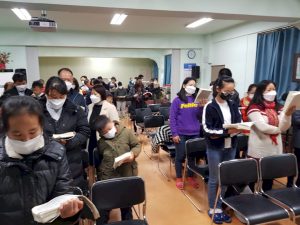 Sixty members of Shenzhen Holy Reformed Church in Guangdong province moved to Jeju Island in South Korea in October 2019 to flee the Chinese Communist Party's harassment and repressive education policy. Their departure followed a procedural vote when sixty out of around ninety members voted to leave China together to start again in a place where they would have religious freedom.
The sixty Christians who fled comprise 16 families (including 31 children) and they chose Jeju Island in South Korea because visa-free travel is offered for Chinese citizens. Back in Shenzhen, state security police continue to harass the thirty members who remained.
The Puritan-influenced church group has become known as the Mayflower Church after the ship that brought a group of English pilgrim families to the New World in 1620. However, the Shenzhen Christians' vision of reaching safe harbour has not yet come to pass.
Multiple courts in South Korea have refused asylum applications, culminating in the Supreme Court's refusal on 26 January 2022. Church members can re-apply by submitting additional documents, but the chance of approval is very small – South Korea's asylum approval rate is only 0.4%. They will become illegal immigrants in South Korea 14 days after the date of rejection, and face deportation to China.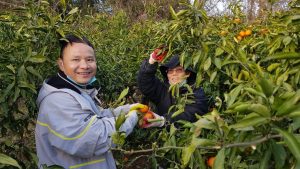 Mayflower members are also applying for asylum in the United States through the United Nations High Commissioner for Refugees (UNHCR), and on 7 February Pastor Pan Yongguang received a phone call from the UNHCR's South Korea office, which provided him with contact details for lawyers, arranged for local charities to donate food and winter clothes and helped two pregnant women get medical insurance. The group has found it difficult to adjust to life in Jeju, due to language barriers and lack of education for the children. Most of the adults are working in agriculture, such as picking tangerines on farms (pictured). 
Jeju Island is close to China's east coast cities and China Aid speculates that South Korea is concerned that approval of the case would "cause a chain reaction and appear to be an open invitation for all". China Aid explains, "China is full of people who can qualify for refugee status in other countries. Suppose South Korea approves the asylum applications of Mayflower church members. In that case, many other Chinese nationals might follow suit and may flock to the island, which would overburden the small island. At the same time, their decision could easily provoke the Chinese Communist Party and cause diplomatic disputes."
Pastor and church members targeted
When Shenzhen Holy Reformed Church was founded in 2012, Pastor Pan Yongguang refused to join the government-controlled Three Self Patriotic Movement because he was not willing to teach Chinese Communist Party-approved doctrine. By 2014, he was often being interrogated several times a week, and harassment escalated after he signed an open letter protesting new CCP regulations on religion.
Pastor Pan started a primary school for children of church members, but police forced parents to enrol them in CCP-controlled public schools and harassed those who refused. "They do not want us to teach our kids the Bible, and kids are banned from going to church," said Pastor Pan. "This goes against our faith and our conscience."
The government supervises textbooks used in the public system, which are edited in accordance with CCP instructions and are full of Marxist and Leninist ideology. Many Chinese Christians homeschool their children to avoid CCP indoctrination and large house churches like Shenzhen Holy Reformed Church often establish their own schools.
Multiple charges await Pastor Pan 
Pastor Pan is worried that he will face multiple charges if he is deported to China. "I have been charged with subversion of state power, collusion with anti-China foreign forces, and human trafficking," he told Radio Taiwan International. "I took these believers out of China, so now I'm suspected of trafficking or smuggling them. Just one of those charges would be enough to send me to jail for a very long time."
"Inciting subversion of state power" is one of the charges of which Pastor Pan's friend Pastor Wang Yi of Chengdu Early Rain church was convicted. Pastor Wang is serving a nine-year prison sentence, and if Pastor Pan is forced to return to China he could face a similar sentence.
(China Aid, Radio Taiwan International)
Share this