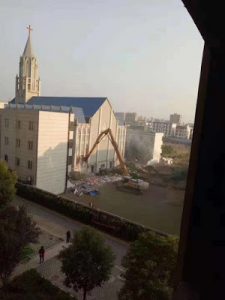 On 18 October, police in Funan, Anhui Province, destroyed a large Protestant church building and detained its pastors. No legal papers ordering the church's demolition were provided, but the officials tore it down regardless. The church building seated more than 3,000 people and was part of the officially-recognised Three-Self Patriotic Movement.
The demolition took place unexpectedly while the congregation was in the middle of a worship service. Christians knelt in front of the authorities, begging them not to tear down the building and some fainted and were sent to hospital.
The church has not been compensated for its loss of property. Authorities claimed that the reason for the destruction was that they were renovating the area and suggested that Christians attend other churches. They also stated that they would rebuild the church in another area.
Watch a video of the demolition here.
On 23 October, officials detained the church's pastors, Geng Yimin and Sun Yongyao, on suspicion of "gathering a crowd to disturb social order".
ChinaAid President Bob Fu said: "This is yet another clear example showing the escalation of religious persecution today by the Chinese Communist regime. The total disregard of religious freedom's protection as enshrined in the Communist Party's own Constitution tells the whole world President Xi is determined to continue his war against the peaceful Christian faithful. This campaign will surely fail in the end."
Closure of numerous rural Three-Self churches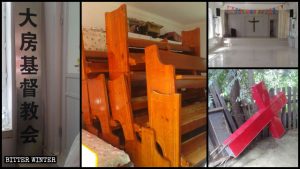 Many Three-Self churches in rural areas have been shut down during the year. Satellite sites for worship are set up to facilitate Christians to gather locally and are especially important for those not able to travel the distance to the main church buildings. For elderly and physically-challenged Christians, they are the only option to practise their faith in places of worship.
Although most Three-Self meeting venues are led by government-appointed pastors, the rural sites are not under the government's direct control to the same extent as the main churches. As these churches are often set up in private homes and mostly located in remote regions, they have not faced the same political and financial scrutiny by the state. However, since the new Regulations for Religious Affairs which were implemented in 2018 they have been shut down in large numbers.
 (Bitter Winter/China Aid)
Share this