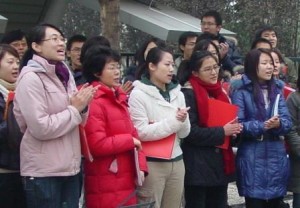 There is still no resolution for Shouwang Church in Beijing, which has had to meet outdoors since April 2011, following eviction from its premises.
Every Sunday, services are held at a plaza, whatever the weather, and each week many members who attend are arrested and held for several hours or days. Some have been placed under temporary house arrest (often the police detain members from Friday in order to prevent them from attending Sunday service) and several church staff members have spent months under house arrest, including Senior Pastor Jan Tianming. Some members have lost their jobs and homes.
The last couple of Sundays have been typical of events since April 2011. On Sunday 16 September the church held its thirty-eighth outdoor worship service of this year. At least 22 Christians were arrested, including a woman who was detained at a hotel from Friday 14 September. Ten Christians were released after they were taken away from the platform area of the plaza. The rest were taken to a police station and were released, one by one, by 2.30pm on Sunday afternoon.
The same thing happened the previous Sunday, 9 September: at least 19 Christians were arrested, and one woman was detained at a hotel from Friday. Seven Christians were released after they were taken away from the platform, while the rest were taken to a police station and were released by 4pm on Sunday afternoon.
Church Announcements
An announcement posted on Shouwang's Facebook page on 16 September stated: "The Lord knows us; we wouldn't be able to persevere through such a long period of time without Him sustaining us with His mighty hands. Therefore, we believe that our Lord is still with His church, and is going to manifest His glorious work through our weakness…
"May the peace and grace of the Lord Jesus Christ, the mercy and love of Father God, and the consolation and guidance of the Holy Spirit, the Advocate, be with each brother and sister of Shouwang Church and all the churches who remember Shouwang Church in prayers, from this time on and forevermore! Amen."
An announcement posted on on 9 September stated: "As the battle continues, we hope that the whole church will come before the Lord in unity, fasting and praying that the Lord would renew His church. May the Lord hear our prayer, lead us and strengthen us, so that we can continue to follow Him out of weariness and weakness."
Background
Shouwang Church was forced to move its services outdoors in April 2011 when it was evicted from its rented meeting place. The church members had purchased a floor of an office building to use for services, but the authorities had prevented them from taking possession.
In December 2011 Shouwang Church signed a lease for a new indoor venue and two days later books and other belongings were moved in. However, the landlord terminated the contract due to pressure from the local police, the housing management office and leaders of various government agencies.
Church leaders signed two further leases, but they were revoked after landlords came under pressure from the police and other government agencies. Arrangements were then made to rent a hotel room for the service on New Year's Day 2012, but this arrangement was cancelled after police interference. Services have continued outdoors ever since.
(ChinaAid)
Share this