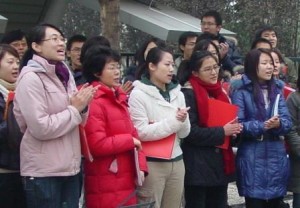 There is no improvement in conditions for the members of Shouwang Church in Beijing. Detentions continue each Sunday as they seek to meet for worship, and leaders and pastoral staff remain under house arrest.
Shouwang is an unregistered house church of about 1,000 members. They have had to meet at an open-air plaza in northwest Beijing each Sunday since April 2011 because government pressure forced the church out of its indoor venues. At the first outdoor meeting, on 10 April, 169 people were detained.
On Sunday 17 July Shouwang Church held its fifteenth outdoor meeting at the plaza and as usual there were arrests – at least 22 Christians were taken to eight police stations, according to where they live. Some were released on their way to the stations and the others by 11.40 pm. On the previous Sunday at least 26 Christians had been arrested, following a week of harsh restrictions, and taken to fourteen police stations. All were released by 2am the next day.
Shouwang members who are not under house arrest or have not been detained at the plaza go to the police stations with food and water for the detainees, waiting outside until they are released. According to a church statement issued after the fourteenth outdoor meeting, "We are very thankful that in front of each police station in which believers were detained, there were several believers praying and waiting for them, which greatly comforted believers detained inside. Through this, many believers deeply felt that we are not alone; we are not experiencing this as isolated individuals. We are experiencing this together during this particular period as a church."
Church members keep running tallies of who is in police custody and who has been released. When one member was released, another commented online, "Fu Jing is out! Praise the Lord! She said that when she was inside and was experiencing a moment of weakness, from outside came the sounds of brothers and sisters singing hymns… Thank you to those brothers and sisters who were there [waiting] for her!"
Restrictions were stepped up in early July, as the authorities tried to ensure that nothing would disturb celebrations of the 90th anniversary of the founding of the Chinese Communist Party. Some Shouwang members were put under house arrest as early as Tuesday instead of Friday evening. One couple appealed for help from other members because they could not go out to get food: their guards roughed up and injured the wife in the doorway of their apartment building as 30 people looked on, doing nothing.
The restrictions may spread to other unregistered churches, according to a report by CNN. "Shouwang's case could deteriorate into a massive crackdown," said Ezra Jin, pastor of Zion Church in Beijing. "We are at a critical moment, and we are ready to pay the price." (Baptist Press, ChinaAid, CNN, Shouwang Church)
Click here for more details about the history of Shouwang Church.
Share this